Cricut Craftin Friends Blog Hop
Celebrating Cricut Craftin Grammys 1 year
Blogaversary
Oh YAY!! I'm so happy that you're BACK for DAY TWO of the Cricut Craftin' Friends Blog Hop!! :) What's that??? You missed yesterday's post??? Be sure to
CLICK HERE
and catch up on all the FUN (plus you can double your chances in my GIVEAWAY)!! :)
Since this is a TWO-DAY hop, you have until January 30th to post your comments on both days of the blog hop to be eligible for the GRAND PRIZE... Thanks for joining us!
Okie-dokie, back to hopping!! If you've hopped over from my Lasting Memories Design Team Sister,
Kim
, then you are in the right place!! If you've just popped in to visit my blog or are reading this via email and you'd like to join our FUN, then please
CLICK HERE
to start at the beginning with
Suzanne's Blog
For the hop today, I've created .......
A simple, yet FUN, Valentine Banner... I found this cool layered heart on the
BRAND NEW Creative Memories This & That Cricut Cartridge (available HERE)
, and I couldn't wait to use it for this banner!! :) There are so many neat images on this cartridge -- I think you'll be seeing quite a few here in the next several weeks...
I used some of my homespun "ribbon" strips for the banner base... And I cut 5 hearts (both layers) at 6"... I also cut the base of each heart from chipboard so that the banner would be very sturdy.
I tied strips of the homespun ribbon between each of the hearts to add a little fullness and whimsy... I'm very happy with how it turned out and can't wait to find a permanent home for it (it can't stay here -- that's my cupboard filled with Sizzix dies and other craft stuff that it's hanging on!!)...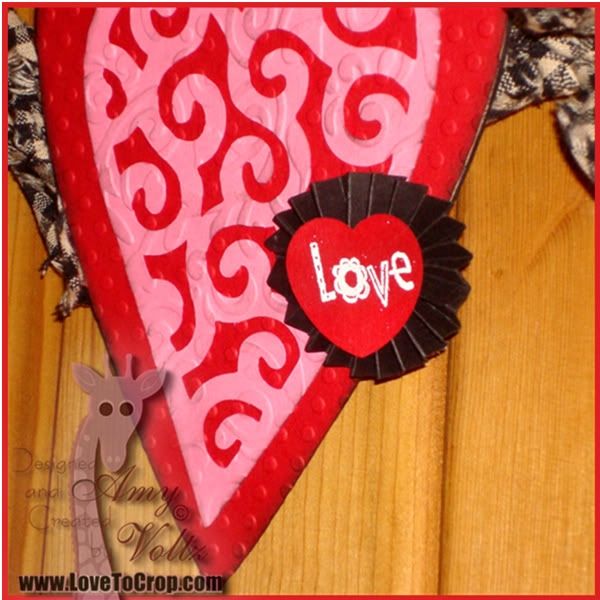 I used the Cuttlebug "Polka Dots" embossing folder for the back layer of the hear and the Sizzix "Hearts & Vines" embossing folder for the swirled hearts. I distressed the edges with black ink before adhering the layers together (I also use a black permanent marker on the edges of the chipboard to give it a finished look).
Finally, I added a black rosette to three of the hearts... I took my time gluing the rosette down as I wanted it to be in more of a heart shape. Once I had it semi-set the way I wanted it, I used hot glue to fill the center for a solid rosette. Then I added the "Love" heart to finish it off (stamped with Versa Mark, and heat embossed with white embossing powder). The "Love" sentiment can be found on the
Owly Hoo Stamp Art Sentiment Set
from
K Andrew Designs
... If you'd like to see a BUNCH more projects featuring this incredibly FUN stamp set, please
CLICK HERE
...
Before you hop away... I DO have a bit of Blog Candy for one lucky winner!! I have a few little random items that I've stuffed into an envelope -- It'll make a nice SURPRISE when the winner opens it!! To be eligible to WIN, you will need to leave a comment answering the question:

DO YOU HAVE ANY SPECIAL TRADITIONS FOR VALENTINE'S DAY???

(I like to decorate my pencil tree with heart ornaments and send Valentines to my kiddos!!)... :)

Want some BONUS chances in the drawing??? You can do any or all of the following for EXTRA chances (just remember to leave one comment for EACH thing ya do!!):

"Like" the Love To Crop! Facebook Page -- click here

Subscribe via email by entering your email in the box at the top of the page (be sure to CONFIRM!)

Become a follower of my blog (2 ways to do this -- via the regular follow button AND via Networked Blogs -- get a chance for each)
If you leave your email address (please leave it in SAFE scrapbookingwithamy at gmail dot com form), I will be happy to contact you if you are the winner; otherwise, you will need to check back to see if you are a winner. No captcha here, so commenting is quick and easy!! :)


Suzanne is ALSO offering an AWESOME Grand Prize (remember to comment on each Hop Stop BOTH days for DOUBLE the chances to WIN!!)... If you are the WINNER, you can choose a $25 Gift Certificate to either JoAnn's or Michael's!! Woot-woot!! With coupons and sales, you could carry home a bunch of LOOT!! :)
Thank you again for checking out my project... Now hop to the next stop: Terri...
Remember to visit all the stops for MAXIMUM ideas and LOTS OF FUN!! Below is a list of all the Hop Stops in case you get lost or want to revisit anyone (clicking the links below will take you DIRECTLY to each participants post)!! :)
Suzanne
Also posting for Cindy who does not have a blog
Fantabulous Cricut Challenge Blog Friends
Charlotte
Melanie
Beckie
Faith Abigal
Kate
Lasting Memories
Michele F
Elizabeth
Karen
Denise
Michelle
Jennasa
Kimberly
Amy :)
You are HERE now!! :)
Message Board Friends
Terri
Go here NEXT!!
Brenda
Rachelle
Shawnee
Sweet Sassy Diva Blog Friends
Lori
Mindy
Jen
Until next time,