Cricut Craftin Friends Blog Hop
Celebrating Cricut Craftin Grammys 1 year
Blogaversary
We're so happy you could join us for this hop celebrating the one year blogaversary of Cricut Craftin Grammy. Suzanne has asked a few of her Cricut Message Board friends as well as Design Team friends (Fantabulous Cricut Challenge Blog, Lasting Memories and Sweet Sassy Diva ) to join her in this two day Blog Hop. We are allowed to share anything we wish as long as we used our Cricut!! :)
This is a TWO-DAY hop, so be sure to check out both days so you don't miss any creativeness. Because there is a large number of participants, you have until January 30th to post your comments for the two days of the blog hop. Thanks for joining us!
Let's get hopping!! If you've hopped over from my Lasting Memories Design Team Sister,
Kim
, then you are in the right place!! If you've just popped in to visit my blog or are reading this via email and you'd like to join our FUN, then please
CLICK HERE
to start at the beginning with
Suzanne's Blog
For the hop today, I've created .......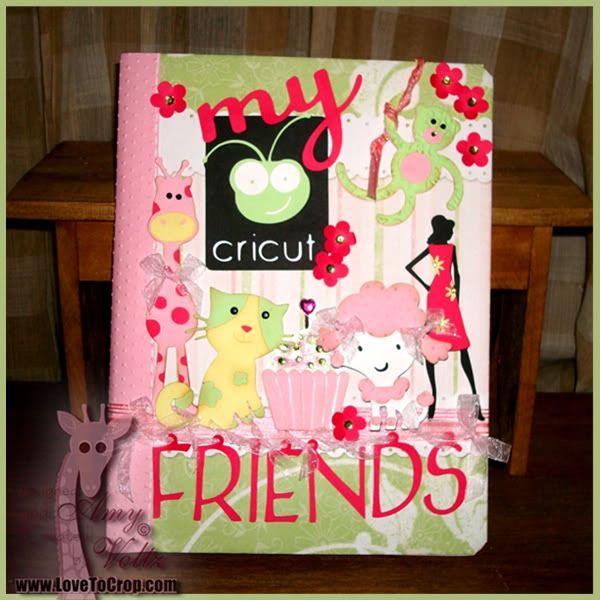 ...A super FUN altered journal for Suzanne to keep track of all of her crafty friends!! :) This is a basic composition book that I picked up at the beginning of the school year... I covered it with some Creative Memories Delight Designer Paper and then set to work cutting Cricut "friends" (with a little assistance from my Gypsy)...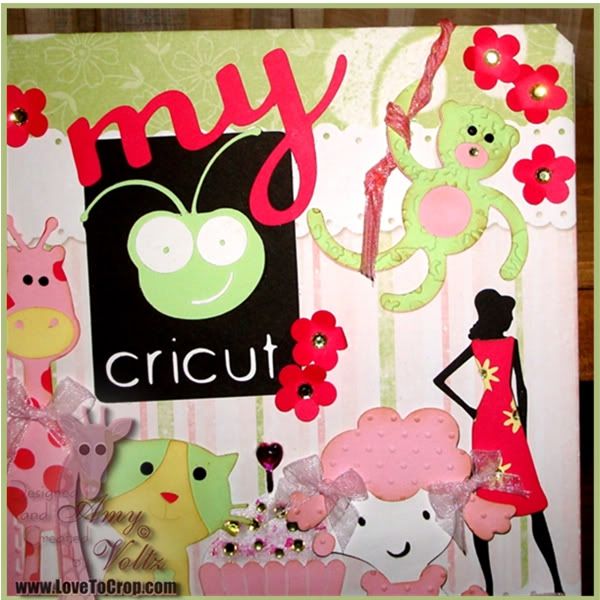 The Cricut logo can be found on the Cricut Everyday (exclusive Cricut Circle) Cartridge... Suzanne LOVES her Cricut!! :) That silly monkey is one of my favorites from the Creative Memories Stork's Delivery Cricut Cartridge... The "my" was welded on my Gypsy and is one of my favorite fonts (especially for welding) -- Songbird!! :)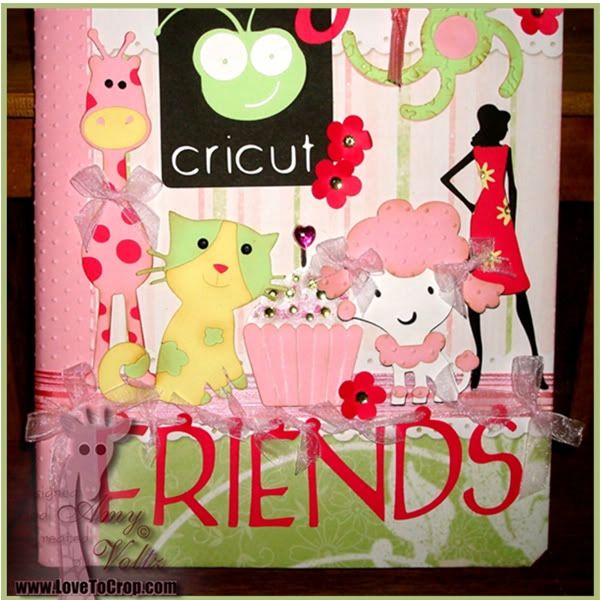 I tried to represent all the friends that Suzanne had invited to HOP with her this weekend -- So of course, there's a giraffe for ME (also on Stork's Delivery)... :) There's a kitty for the cat-lovers (Cricut Sampler), and a dog (Create A Critter) for the dog-lovers (but I chose THIS dog because it reminds me of the adorable doggies on
Charlotte's blog
-- do you remember them??? SO CUTE!!)... There's a cupcake (Celebrations) for her sweet friends and a fashionista (Forever Young) for her very fashionable friends... And then there are a pile of flowers for everyone who just loves flowers (and BLING)!! :) The "FRIENDS" can be found on the George and Basic Shapes Cricut Cartridge ("Charmed" feature)....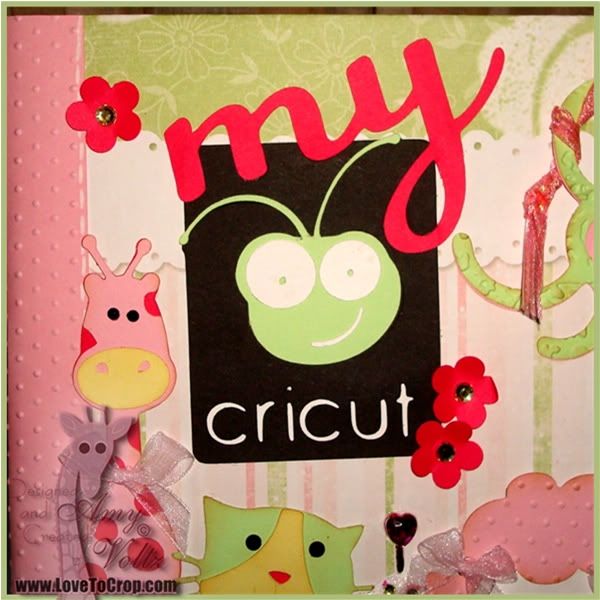 I did a little embossing on a few cuts -- The monkey features the Sizzix Damask embossing folder and the doggie features Cuttlebug's Swiss Dots embossing folder... I also used Swiss Dots for the spine... Some Kaiser gems were added here and there for a little extra SPARKLE...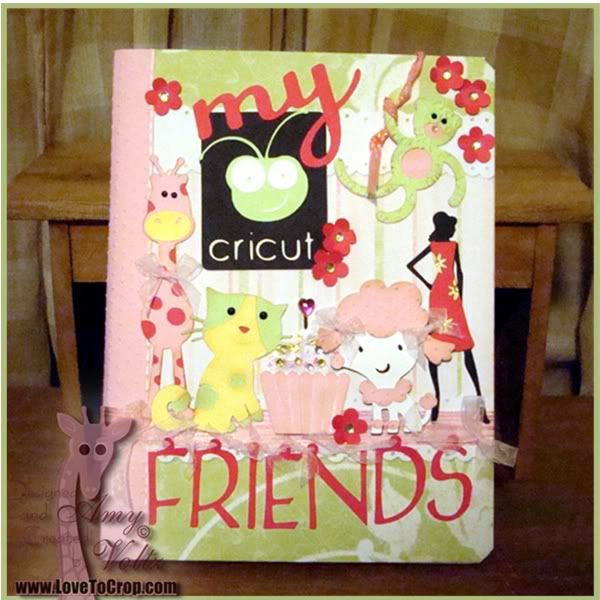 There ya have it!! I hope you've enjoyed seeing my journal today... And I hope Suzanne enjoys using it for a long time to come!! :)
Before you hop away... I DO have a bit of Blog Candy for one lucky winner!! I have a few little random items that I've stuffed into an envelope -- It'll make a nice SURPRISE when the winner opens it!! To be eligible to WIN, you will need to leave a comment letting me know

WHICH CRICUT CUT on my altered journal represents YOU???

(Remember... I'm the giraffe!! But I'll share if that's you too!!)... :)

Want some BONUS chances in the drawing??? You can do any or all of the following for EXTRA chances (just remember to leave one comment for EACH thing ya do!!):

"Like" the Love To Crop! Facebook Page -- click here

Subscribe via email by entering your email in the box at the top of the page (be sure to CONFIRM!)

Become a follower of my blog (2 ways to do this -- via the regular follow button AND via Networked Blogs -- get a chance for each)
If you leave your email address (please leave it in SAFE scrapbookingwithamy at gmail dot com form), I will be happy to contact you if you are the winner; otherwise, you will need to check back to see if you are a winner. No captcha here, so commenting is quick and easy!! :)


Suzanne is ALSO offering an AWESOME Grand Prize (remember to comment on each Hop Stop BOTH days for DOUBLE the chances to WIN!!)... If you are the WINNER, you can choose a $25 Gift Certificate to either JoAnn's or Michael's!! Woot-woot!! With coupons and sales, you could carry home a bunch of LOOT!! :)
Thank you again for checking out my project... Now hop to the next stop: Terri...
Remember to visit all the stops for MAXIMUM ideas and LOTS OF FUN!! Below is a list of all the Hop Stops in case you get lost or want to revisit anyone!! :)
Suzanne
Suzanne is also posting for Cindy who does not have a blog
Fantabulous Cricut Challenge Blog Friends
Charlotte
Melanie
Beckie
Faith Abigail
Kate
Lasting Memories Friends
Stacia
Michele
Elizabeth
Karen
Denise
Michelle
Jennasa
Kimberly
Amy :)
You are HERE now!! :)
Message Board Friends
Terri
Go here NEXT!!
Brenda
Rachelle
Shawnee
Sweet Sassy Diva Blog Friends
Lori
Mindy
Tina
Jen
Until next time,