Welcome to the "U R SO SWEET" Getting Cricky Blog Hop!!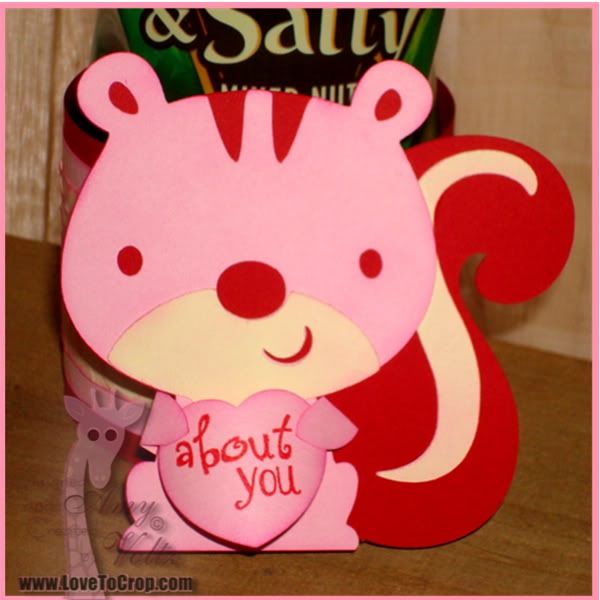 We're so happy you could join us for this month's Getting Cricky Design Team Blog Hop!! We have an EXTRA SPECIAL hop for you this month -- All week long, the Design Team has been featuring many of Kristal's stamp sets in anticipation of the hop... If you've missed out on any of the week, be sure to check out our previous posts for MORE THAN 100 CREATIVE IDEAS and PROJECTS using Kristal's stamps as well as giveaways, promotions, tips, and tutorials!!
If you've hopped along from
Lisa
then you are in the right place!! If you are just joining me from your dashboard, or reading this via email, please be sure to
CLICK HERE
to start at the beginning with
Kristal's blog
(you'll want to catch up on all the FUN!!)...
I'm super excited to share my project with you tonight because this is how I feel when I think about YOU!!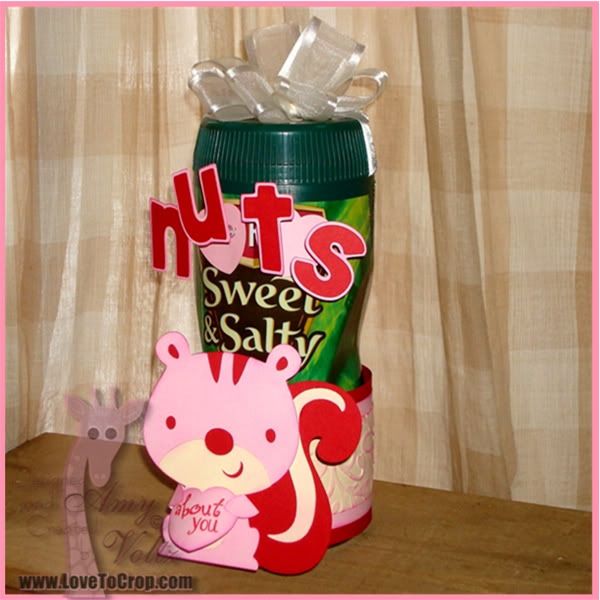 I'm TOTALLY nuts about you!! :) tee hee... I mean, I really, really, really, really, really am!! :) Without you, I wouldn't lay awake at night thinking what I could make to share with you... You are really fantastic, and I think you should know!! :)
I'm also nuts about this adorable little squirrel that can be found on the Create A Critter Cricut Cartridge... Who wouldn't smile upon seeing this sweet little guy??? I attached him with one of my homemade wiggle wires (YES, I had plenty of requests for a wiggle wire tutorial, so it's coming next week....) so he just bounces to and fro.... I did add the little hands so he could hold the heart in front of him...
I started with a canister of some of our favorite Emerald nuts (peanut butter chocolate)... These things are crazy good... Almost as good as the Emerald almonds dusted with cocoa powder... YUM. The-Girl-Child always loved having some of these in her lunch... And, yes, I still make sure she has a stash of these while she's away at college. :)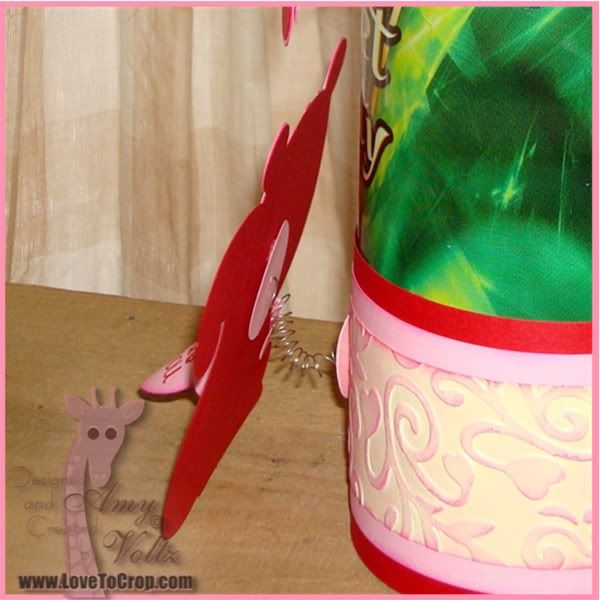 I wrapped the canister with three layers of cardstock -- a 2.5" wide strip of red, a 2" wide strip of pink, and a 1/5" strip of ivory (embossed with the Sizzix hearts and vines embossing folder)... There's a peek at my wiggle wire too -- Bet you can figure out how to make these even without my help!! :)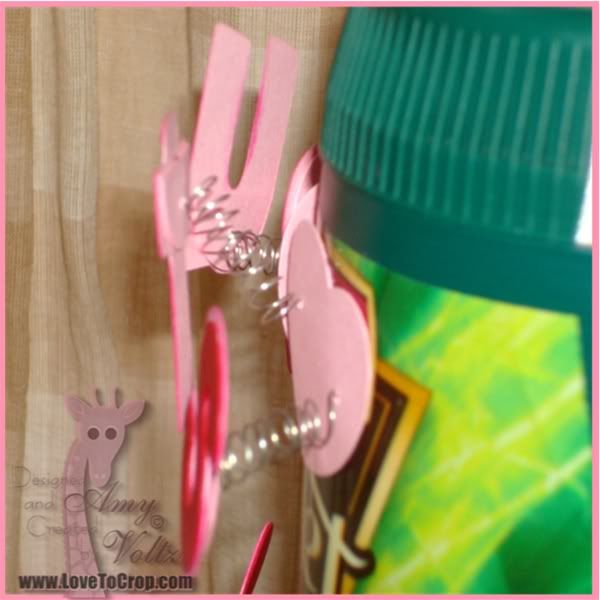 For some extra fun, I attached the letters with wiggle wires too... Those wires just add a wee bit more excitement to any project!! :)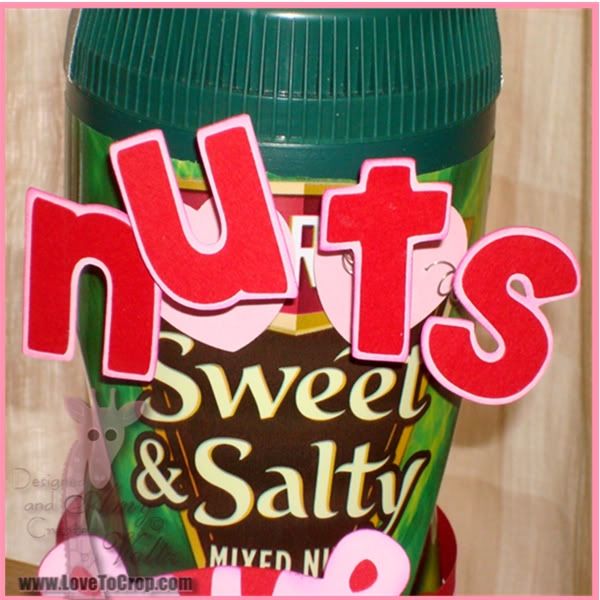 The wiggle wires also allow me to twist the letters in any direction I need to -- so I could make them look a little, um... nutty!! :) Unfortunately, I cannot remember which cartridge these letters came from... If you know, leave it in the comments and I'll send you something special if you're the first (and you're right)...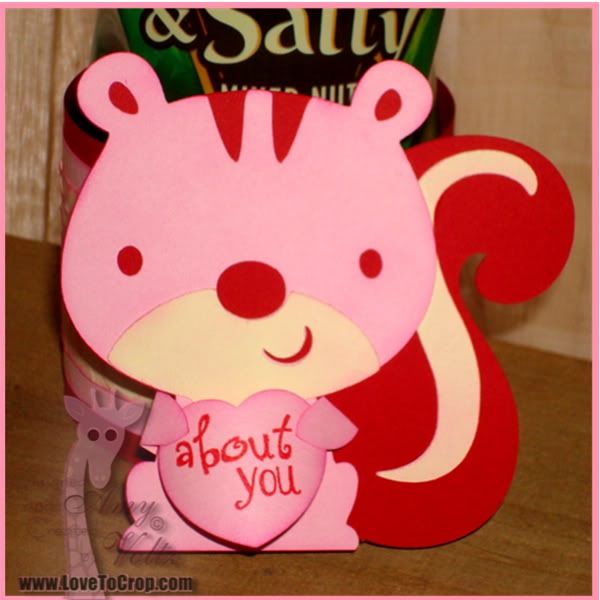 And finally... The sentiment "about you"... Of course, this can be found on the
Owly Hoo Stamp Art Sentiment Set
... This is the set I've been featuring all week long (it's awesome for your owly and not-so-owly projects!!)... For more details or to make this set YOURS, please click on the preview below:
I have

BIG NEWS!!

To qualify for

FREE SHIPPING

on your purchase, be sure to enter

amyfreeship

at check out!! WOWZERS!! Gotta love a deal like that!! :)
PLUS... When you purchase $25 or more, you qualify to get the Mini Heart Bonus Set for FREE!!
Before you hop away... I DO have a bit of Blog Candy for one lucky winner!! I will be giving away a RANDOM set of K Andrew Stamps as well as some of my favorite ribbon used during the Pre-Hop Preview Week!! To be eligible to WIN, you will need to leave a comment letting me know
WHICH RIBBON WAS YOUR FAVORITE FROM THE WEEK
(sorry, today's doesn't count!)... If you need a refresher OR if you missed the Pre-Hop Preview,
CLICK HERE
and check them all out!! :)
Want some BONUS chances in the drawing??? You can do any or all of the following for EXTRA chances (just remember to leave one comment for EACH thing ya do!!):
"Like" the Love To Crop! Facebook Page -- click here
Subscribe via email by entering your email in the box at the top of the page (be sure to CONFIRM!)
Become a follower of my blog (2 ways to do this -- via the regular follow button AND via Networked Blogs -- get a chance for each)
Leave a comment on ANY of my Pre-Hop Preview Posts (there are 5 -- click here -- get a chance for one or get a chance for all 5!!)
If you leave your email address (please leave it in SAFE scrapbookingwithamy at gmail dot com form), I will be happy to contact you if you are the winner; otherwise, you will need to check back to see if you are a winner. No captcha here, so commenting is quick and easy!! :)


Now you can hop on over to your next stop: Faith ......
Each of Kristal's stamp sets benefit charity. At least $1 per stamp set goes to benefit the charity noted on the stamp set package. Kristal is donating to the following charities: Cancer Angels, Storefront Shelter for Homeless Children, Intrepid & Fallen Heroes, E. Glaser Pediatric AIDS Foundation, Doorways Shelter for Women & Children (Domestic Violence), Wayside House for Women, Camp Good Days & Special Times, Adopt a Classroom, and Autism Research Institute. Kristal will donate $1 for every stamp set sold, retail or wholesale to the charity noted; and over time believes this will add up to some wonderful miracles for these special people. So you can feel good that each time you purchase a K Andrew Designs art stamp set, someone around the country is receiving some good help!
K Andrew's stamps are all made and assembled here in the USA, which is very important to Kristal. This ensures all product materials are safe and that jobs are being provided and maintained here in America. You can learn even more about Kristal's stamps (and pick some up for yourself) by visiting her online store:
K Andrew Designs
:
Kristal's stamp sets are perfect for cards, layouts, and so much more...
Remember....
To say "THANK YOU" for hopping along with us today, we have specials for you :

purchase $25

receive a FREE Mini Stamp Set!!

amyfreeship

for FREE SHIPPING!!