Happy New Year!! :) Did you ring in 2012 with some special friends and family??? Or did you spend a quiet evening at home reflecting on the highs and lows of the last year??? For me, the holidays (and especially the New Year) always bring a bit of nostalgia... I fondly remember the days of my childhood -- Curling up on the sofa while trying hard not fall asleep... Listening to the laughter of the grown-ups as they shared their own memories of years gone by... Banging pots and pans atop a mountain in New York or on the front porch of my childhood home...
As my own children are now "technically" adults themselves (they'll always be my babies, ya know!!), they spent this New Year with friends of their own -- The-Boy-Child with The-Girlfriend and her family and The-Girl-Child with her reunion of high school besties... Excited text messages filled with good wishes and blessings for the New Year replaced the laughter and noisemakers... A peaceful evening of movies and watching the ball drop with a friend has become the new tradition for me... Closing the chapter on 2011 and looking to 2012 as a new horizon filled with new hope...
It's a rainy, cold day here in Pennsylvania -- There's a Winter Storm Advisory for later on tonight... Living just close enough to that large lake just north of here means a promise of 6+ inches of heavy, wet, lake-effect snow for us tonight... Despite the forecast, and even as I write this, the sun is trying hard to break through the clouds if only for a few moments to remind us all that it is, indeed, a new year!! How amazing is that??? After days without success (dark, cloudy days), the sun refuses to give up!! Kinda makes me feel like we all should all live that way -- Even when faced with darkness and clouds day after day, if we persevere and keep trying... We'll eventually break through and SHINE!! So, if the New Year finds you looking for an excuse to shine, here's some video inspiration for you today...
If you cannot see the video above, or wish to view it on YouTube, please
CLICK HERE
...
Now, on to some SUPER CHALLENGES!! It's
Simply Sunday Challenge Day over at Getting Cricky
, and we were asked to create a card, layout, or project celebrating something special (the new year, a new home, a new baby, or anything else worth celebrating)!! :) Additionally, Wednesday was the start of new challenge over at
Decorate To Celebrate
... The challenge there is to celebrate a Winter Wedding... And so... I decided to combine the two challenges and make....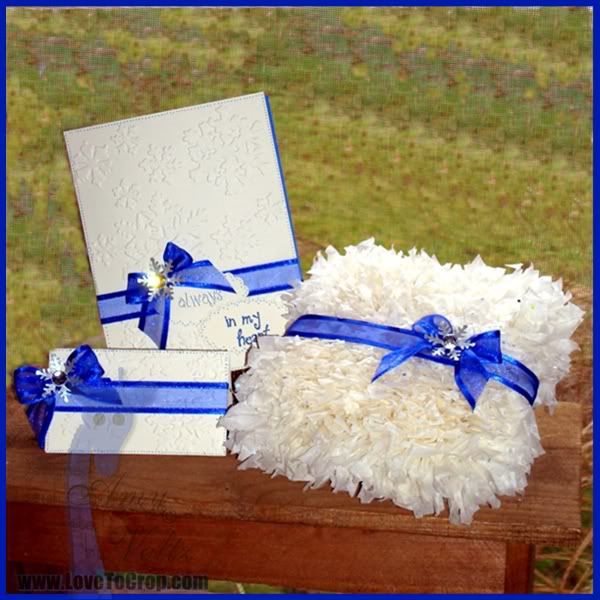 A tissue-paper gift box, table placecards, and a matching card...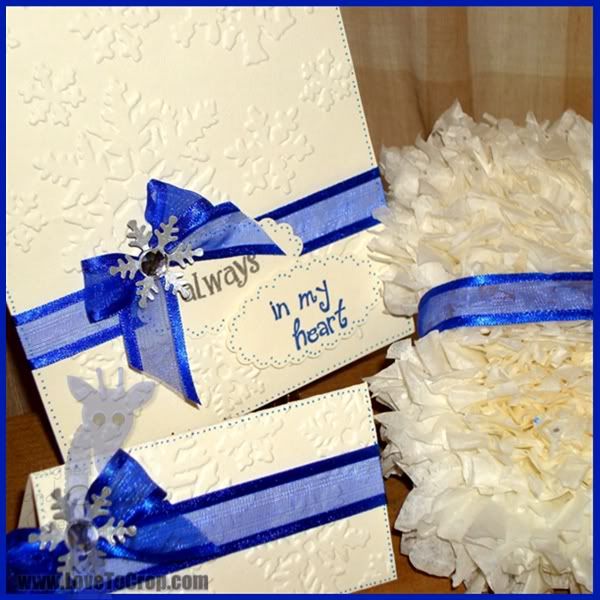 Each item coordinates with the embossed background and matching ivory and blue colors.... I covered an ordinary jewelry gift box with small squares of glittered tissue paper (remember making floats this way???) before adding a "belly band" of ribbon...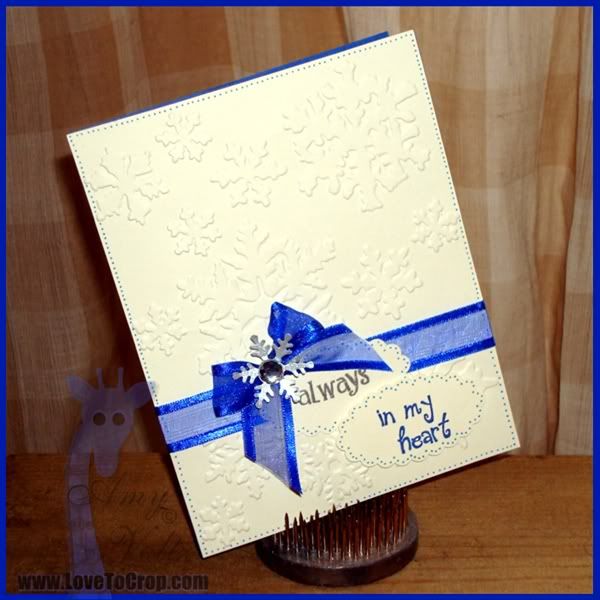 The "always" is embossed in silver and the "in my heart" is stamped with SU!'s Brilliant Blue. The ivory background cardstock is embossed with the Tim Holtz "Snowflakes" embossing folder, the scalloped ovals are an SU! punch, and the snowflake punch is from Creative Memories. A little bit of bling, some blue ribbon from my stash, and some dit-dots finish off this card perfect for the bride to share with the groom. :)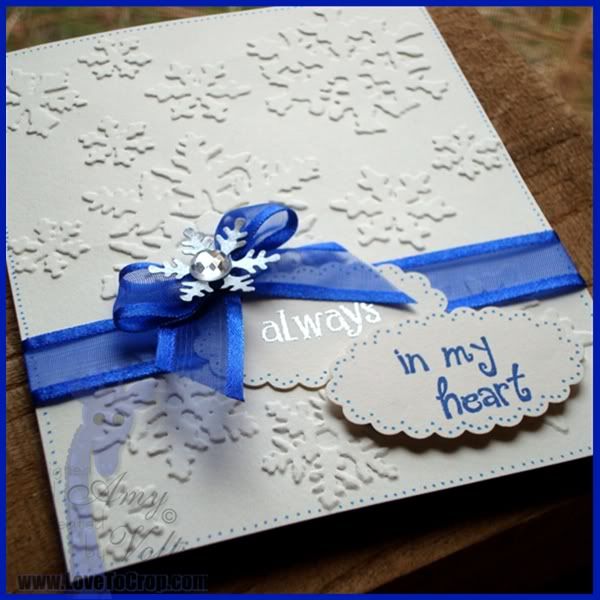 The "always" and "in my heart" sentiments can be found on the "
Owly Hoo
" Stamp Art Set by
K Andrew Designs
...
Now that I've shown you my take on the challenge, I hope you'll hop on over to see what all of my Design Team Sisters made for inspiration... Then, I hope you'll enter this week's "It's a Celebration!" challenge at
Getting Cricky
... We can't WAIT to see what you create!!
I'd also LOVE to see your decorating ideas for a WINTER WEDDING over at the
Decorate To Celebrate Challenge Blog
!! From party supplies to table decorations and favors, your creativity is WELCOME!! Be sure to
stop on over
and see what the FABULOUS DESIGNERS have created for inspiration -- Then link up your project for your chance to WIN a BEAUTIFUL Mini Album from my dear friend,
Rhonda
!! :)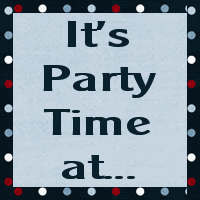 Thanks for joining me today -- May this year be one that SHINES with blessings and hope for you!!
P.S. The sun WON!! Blue skies dotted with clouds out there!! One word. AMAZING. :)
Until next time,