Welcome to DAY ONE of the "It's All About LOVE" Blog Hop!!
We're so happy you could join us for this super-fun hop showcasing cards, layouts and projects that feature anything and everything all about LOVE!! You'll find an array of ideas throughout this hop -- From decorations to gift ideas and more, we hope you'll enjoy each and every project along the way!! Be sure to leave a comment at each hop stop to be entered in our Monthly Drawing (details available at
http://memoriesintyme.blogspot.com
)
If you've hopped over from
Lisa
, then you are in the right place!! If you've just popped in to visit my blog or are reading this via email and you'd like to join our FUN, then please go to Lynda's blog to start at the beginning...
For the hop today, I've created TWO fun Valentine cards -- One for a girl, and one for a boy (hmmmm... I wonder who will be receiving these???)...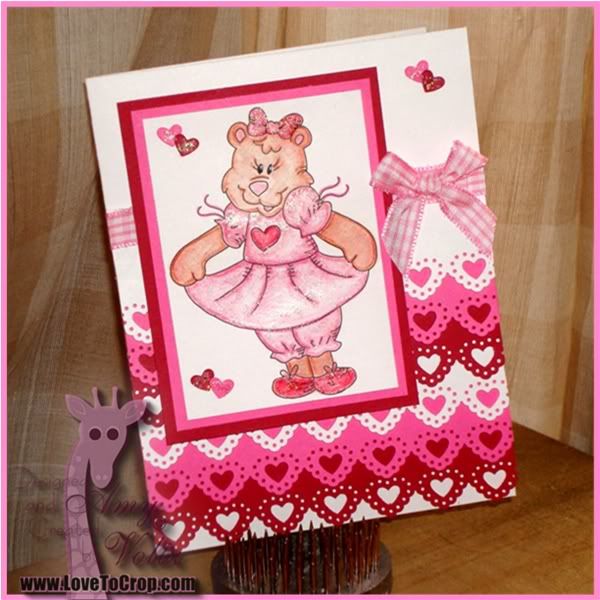 My first card features a super sweet digi stamp from
Digi Darla's
... This "Bear Next Door" is
this week's FREEBIE
, so be sure to pop on over to pick yours up!! While you're there, be sure to check out the challenge -- You could even enter to win some
Robin's Fetish Digi Stamps
too!! :)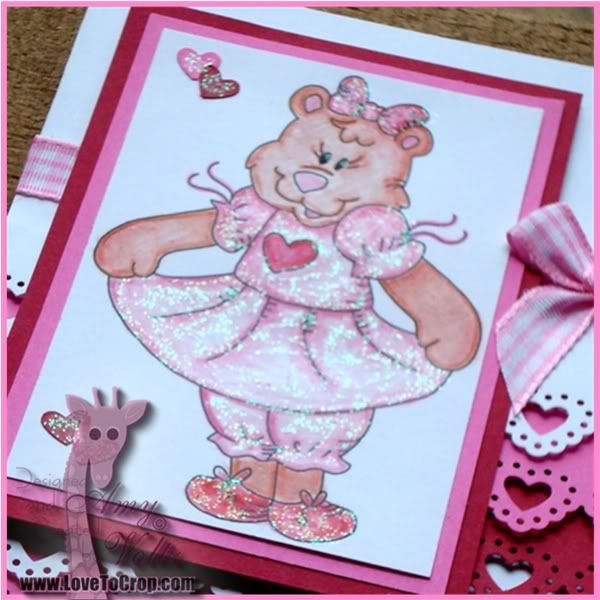 I was sure to add plenty of SPARKLE to my card with some iridescent Stickles -- What's a girly Valentine without a little GLAM??? :) If you're already a follower of mine, then you might remember that I don't own a single Copic (yet!), so I color all of my images with Stampin Up!'s Watercolor Pencils and a blender pen... I feel like this might be getting a little easier than when I first started (does that mean it's time to take the Copic DIVE???)...
For the design of my card, I decided to use one my
favorite border punch tutorials from OWH
... I love the way the layers of this design create so much dimension -- When I'm stuck on a card, I often find this is still my favorite way to make a card!! :)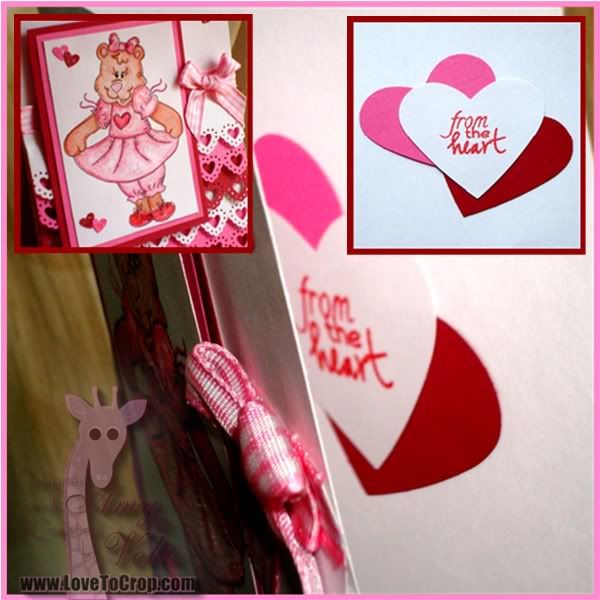 I stamped my sentiment on the inside of the card, atop a trio of hearts... The sentiment "from the heart" can be found on the
"Crafty Friends" Stamp Set
from
K Andrew Designs
.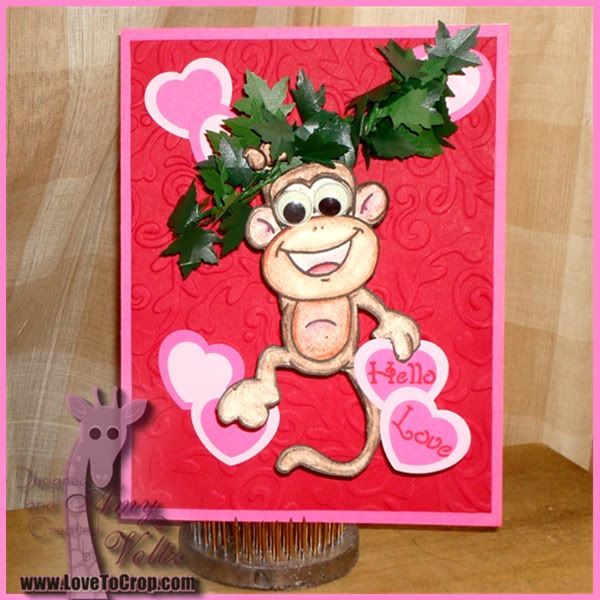 My second card features an adorable digi stamp that I picked up from Dustin Pike over at Doodle Dragon Studios... This particular monkey was part of a set of three monkeys hanging from one another's tails... I printed just the one and wrapped the vine where the other guy's tail would have been...
For a little extra FUN, I added some Glow-in-the-Dark googly eyes!! Oh, by the way, since this week has been all about Wiggle Wires for me -- This is a different "take" on my
Wiggle Wire Tutorial
-- Instead of floral wire, I found this ivy wrapped wire in my ribbon stash and decided it made the PERFECT "Wiggle Wire" for my monkey!! I pierced the end of the ivy vine through one of the double layer hearts and used red tape to adhere it at the top corner of the card... Now the monkey can wiggle and jiggle to his hearts content!! (For my full "Wiggle Wire" tutorial, please
CLICK HERE
...)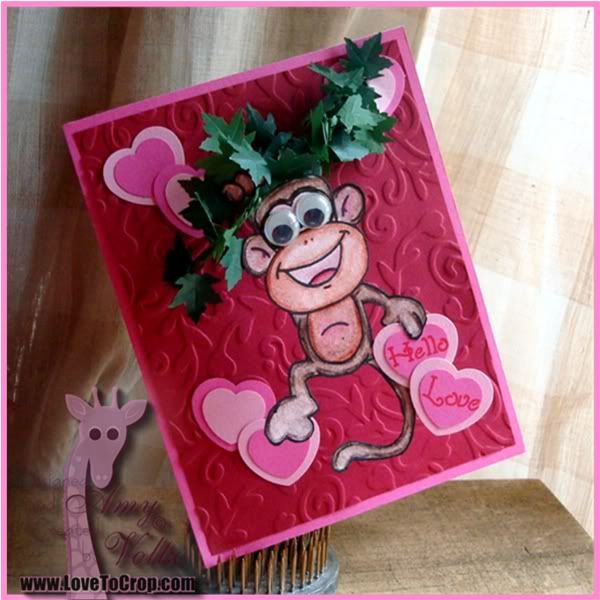 My double layer hearts were all punched with my retired Creative Memories Heart Punch... I added the "Hello" and "Love" stamps to two hearts for the monkey to hold. These fun mix-n-match sentiments can be found on the
"Food For Thought" Stamp Set
from
K Andrew Designs
...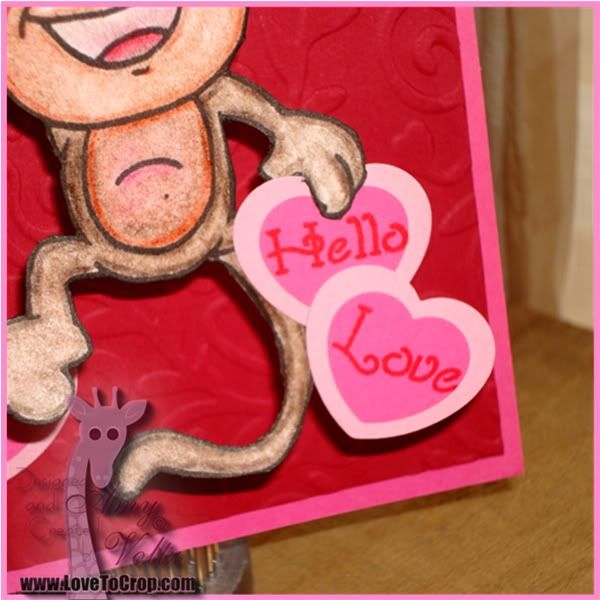 Thank you again for checking out my projects... I'm the LAST STOP in this hop; however, if you missed anyone, be sure to follow the links below and remember to visit all the stops for MAXIMUM ideas and LOTS OF FUN!!
Until next time,