Hello, hello, my FABULOUS friends!! :) I have BIG NEWS to share with you today!! I was recently invited to join the
Paper Playtime Challenge
Design Team!! Woot-woot!! :) Along with some super-talented BLFs (Bloggie-Land-Friends), I'll be creating some inspiration projects for the "Say It With Sentiments" Challenges!!
If you're not familiar with the
Paper Playtime Challenges
yet, please consider this your "official" invitation to
pop on over there and check it out
... They have a challenge on the 1st and 3rd Mondays of each month!! On the FIRST Monday it's a CRICUT CREATION CHALLENGE... And on the THIRD Monday it's a SAY IT WITH SENTIMENTS CHALLENGE (that's ME!!)... Each challenge will have a FUN theme, so I hope you'll check it out and JOIN US for a good time!! :)
Now... On to my inspiration for the challenge (I hope I'll get to see what you create too!!)...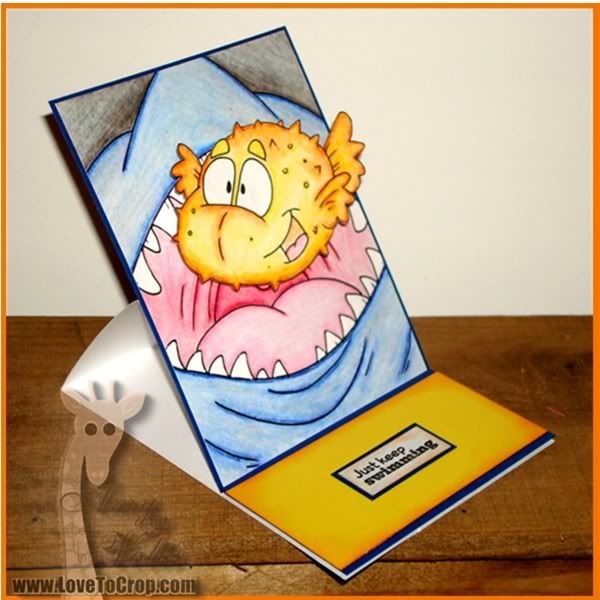 Do you ever feel like you're swimming with the SHARKS??? When I first saw these wonderful new digi stamp sets from
Dustin Pike
(Ocean and Ocean Backgrounds), I was over-the-moon excited!! I immediately imagined sitting down to color stacks and stacks of these, cuz it sure does feel like plenty of my friends are struggling with all sorts of things right now!!
This is an A2 sized card; however, I wanted to make an easel card so that it could easily be displayed on a shelf... To create an easel card, you will need to cut a 4.25"x11" strip of base cardstock. Score at 2.75" and 5.5", then valley fold on BOTH score lines. For my front, I cut a navy base and layered the shark background on top before attaching on the bottom HALF of the card front to the SHORT fold of the base (this allows you to fold the card up and open for display purposes).
As I only have a wonderful set of Stampin' Up! Watercolor Pencils for coloring my digi stamps, that's what I use for all of my coloring (plus a blender pen)... I've found that the more coloring I do, the easier it is... It's also really relaxing (and I feel like I'm accomplishing something if I color while watching a tv show!!), so maybe all we ever needed to know we really did learn in kindergarten... Coloring is awesome!! :)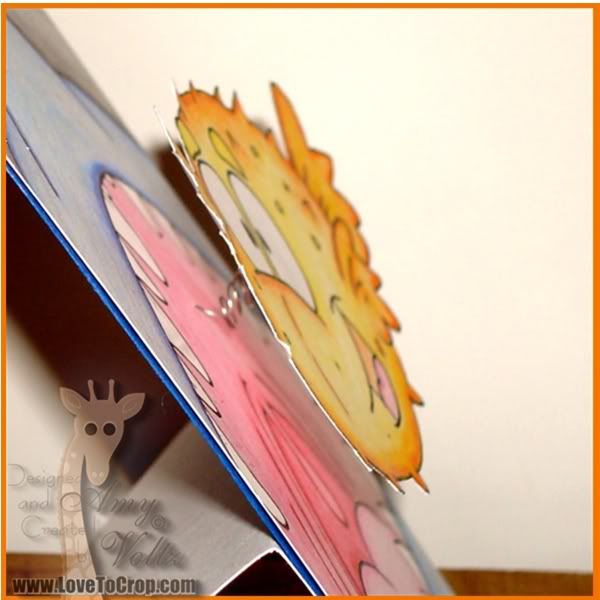 The Wiggle always makes me Giggle, so I added my fishie-fishie to a homemade
Wiggle Wire
... To see this little guy wiggling away without a clue of what's behind him... Well, that is how life is sometimes, right???
I picked up these super cool Gelly Roll "Glaze" pens at my LSS... I used the white glaze to color the teeth on the shark -- In real life they look extra intimidating -- all shiny and sharp... I love the texture that they add -- like heat embossing except without the powder and burned fingertips. :)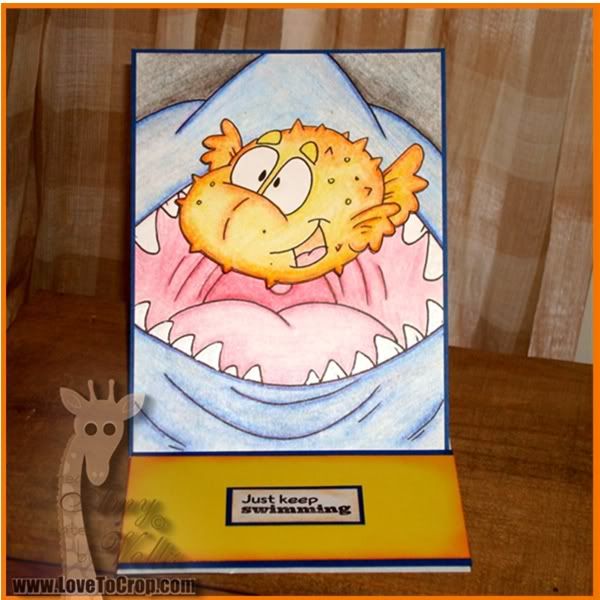 Look at this fishie... He's just smiling and swimming (I bet he might even have YOU smiling now)... He knows it doesn't matter what's creeping up behind him... Worrying about it isn't going to change it...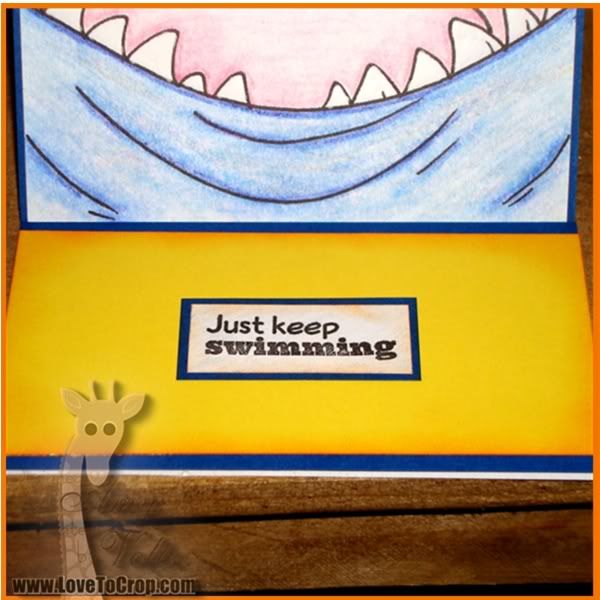 So he's got to "just keep swimming".... Of course, I hope the recipient of this fun card realizes that whatever challenge or obstacle is in the way....
You don't have to swim alone. :)
Thanks so much for visiting me today!! I really do look forward to your visits... I'd love for you to leave a comment (be sure to leave me a link for your blog if you have one, so that I can come and visit you too!!)...
Until next time,