I'm so glad you're here to see me today!! :) If you've arrived here from
Kimberly
, then the Mystery Machine is traveling correctly down the path, and you are in the right place!! :) But if you've been chased here by a ghost, narrowly escaped from a haunted mansion, or perhaps just popped over from your email or dashboard, then be sure to
CLICK HERE
and begin at the beginning so you don't miss any of the Scooby Snacks!! :) Kari has some Blog-Hop-Goodies to tell you about, so I wouldn't want you to miss those details...
For the hop today I'd like to share The-Toby-Dog's version of Scooby Snacks AND a groovy Scooby card!!
homemade Wiggle Wires (tutorial here)
so that Scooby could strut and jiggle his way to the next mystery!! :)
I have a little Scooby SURPRISE for one lucky person who leaves a comment on this post letting me know which character is YOUR favorite BESIDES SCOOBY
(mine is Daphne -- cuz I love her red hair and fashion sense!!)...
Thanks again for visiting!! Your next stop on our adventure with the Mystery Crew is...
Colleen
!!
If you've missed any of the stops, or would like to revisit anyone, you'll find a list of the entire hop below -- For your convenience, clicking on each link will take you DIRECTLY to each participant's post... So you won't miss a thing even if you're joining us later in the week!! :)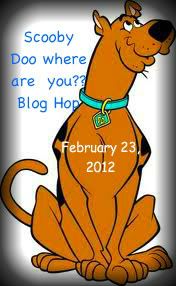 Until next time,