Welcome to the "Show Your Style" Getting Cricky Blog Hop!!
We're so happy you could join us for this month's Getting Cricky Design Team Blog Hop!! We have an EXTRA SPECIAL hop for you this month -- For the past week we've been celebrating the BRAND NEW additions to our Getting Cricky team by showcasing some of our FAVORITE K Andrew Designs Stamp Art Sets... And NOW, we'd like for you to get to know more about us and our very special Guest Designer (and former Getting Cricky Design Team Sister),
Larelyn from Handmade from My Heart
!! Throughout the hop you'll be introduced to each of the Design Team Members who will each share a little about their styles and preferences for stamping!! We hope you'll enjoy each and every project along the way, so let's get hopping...
If you've hopped along from my beautiful Mermaid friend,
Lisa
, then you are in the right place!! If you are just joining me from your dashboard, or reading this via email, please be sure to
CLICK HERE
to start at the beginning with
Kristal's blog
(you'll want to catch up on all the FUN!!)...
For my project tonight, I have a fun little card that demonstrates my whimsical side...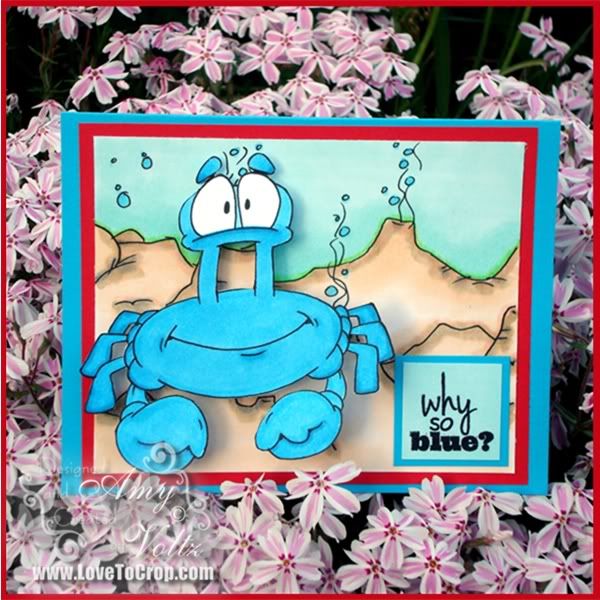 Cuz a BLUE crab is definitely a little whimsical, RIGHT??? :) If I were feeling a little BLUE, I think this silly crab card would cheer me right up!! Actually, coloring this crab BLUE made me feel even HAPPIER than I already was (and I was pretty happy already!) cuz I colored him (and the background behind him) with my BRAND NEW Copic markers!! Woot-woot!! :) I hope my colored pencils don't feel too BLUE about this as I'm sure I'll still be visiting them PLENTY!! :)
That fun little guy is one of my favorite digi-stamps from
Dustin Pike
... If you missed out on his "Under the Sea" set a few months back, he has a great blogaversary special going on now that includes this crab (and the background behind him!) -- Since he's a digi-stamp, you can color him any color you'd like... You don't have to color him blue... Maybe you'd like a green crab, or a purple crab, or an orange crab, or a... Well, you get the idea. :) When you're done coloring him, you might even want to put him on an Action Wobble like I did... We had hermit crabs as pets once... They weren't blue either, but my son was when their cage began to have a less than pleasant odor (this is a family-friendly blog, so I'll let you draw your own conclusions as to what that might mean -- wink, wink)... Anywhoooo, I'm entering this card in the challenge at
Wobble Wednesday Challenges (Pet Challenge)
and
Dustin Pike (Make Us Laugh Challenge)
...
How perfect is it that Kristal included the sentiment "why so blue?" on the "All About Animals" Stamp Art Set??? It's like she just KNEW that I'd want to make a BLUE crab card for this very occasion!! :)
Okay, so to recap: I'm a little bit silly, I really like coloring my digi-stamps (I would color them in a car or on a train, in a box or in the rain!), and I love, love, LOVE my K Andrew Designs Stamps!! And just so you know that all of my crabs don't have to be BLUE, here's a couple other projects featuring crabs and Kristal's stamps....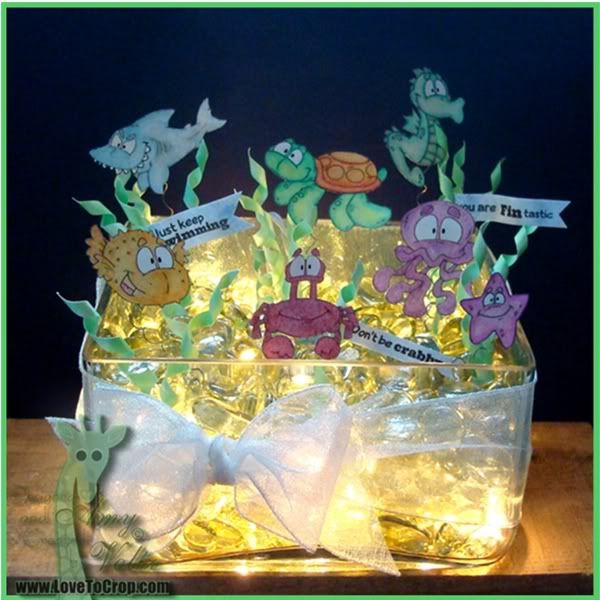 This was a fishbowl nightlight that I made using the same crab from tonight's card (except in a sparkly RED!) and the "Splashtastic Summer" Stamp Art Set... Wanna see more of this project??? Simply
CLICK HERE
for all the details....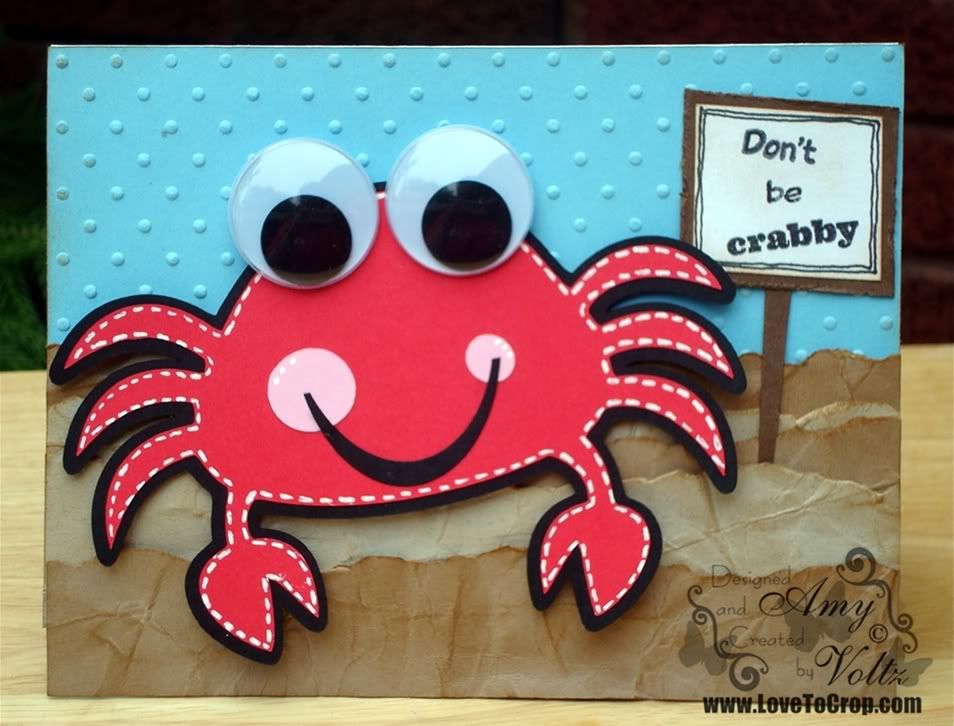 This little card was created to cheer up a friend of mine when she was having a particularly rough week... Sometimes, when we're having a rough week, we can take it out on others... I had to laugh (and so did she) when I added those HUGE googly eyes to this card... If you'd like more details on this card, you can read all about it
RIGHT HERE
...
My card tonight features the "Of Mice and Lil Men" Stamp Art Set For more details or to make this set YOURS, please click on the preview:
Before you hop away... I DO have a bit of Blog Candy for one lucky winner!! I will be giving away
a K Andrew Designs Stamp Art Set
!!
Wanna win it??? To be eligible to WIN, you will need to leave a comment letting me know
WHAT'S YOUR STYLE???
(are you shabby chic? vintage? whimsical? clean and simple? funky? romantic? trendy? or are you like me with several different crafting personalities???)... :)
Want some BONUS chances in the drawing??? You can do any or all of the following for EXTRA chances (just remember to leave one comment for EACH thing ya do!!):
"Like" the Love To Crop! Facebook Page -- click here
Subscribe via email by entering your email in the box at the top of the page (be sure to CONFIRM!)
Become a follower of my blog (2 ways to do this -- via the regular follow button AND via Networked Blogs -- get a chance for each)
If you leave your email address (please leave it in SAFE scrapbookingwithamy at gmail dot com form), I will be happy to contact you if you are the winner; otherwise, you will need to check back to see if you are a winner. No captcha here, so commenting is quick and easy!! :)
*** Remember -- As a special THANK YOU for joining us in welcoming the new team this week, you can use the promo code
"

letshavefun

"
at checkout for
20% OFF
your
ENTIRE
stamp purchase!! Woot-woot!! Be sure to take advantage of this special before it's GONE!! :)
Now you can hop on over to your next stop, my super-FUN, Disney-loving friend:
Shawn
......
:)

Didja know?
Each of Kristal's stamp sets benefit charity. At least $1 per stamp set goes to benefit the charity noted on the stamp set package. Kristal is donating to the following charities: Cancer Angels, Storefront Shelter for Homeless Children, Intrepid & Fallen Heroes, E. Glaser Pediatric AIDS Foundation, Doorways Shelter for Women & Children (Domestic Violence), Wayside House for Women, Camp Good Days & Special Times, Adopt a Classroom, and Autism Research Institute. Kristal will donate $1 for every stamp set sold, retail or wholesale to the charity noted; and over time believes this will add up to some wonderful miracles for these special people. So you can feel good that each time you purchase a K Andrew Designs art stamp set, someone around the country is receiving some good help!
K Andrew's stamps are all made and assembled here in the USA, which is very important to Kristal. This ensures all product materials are safe and that jobs are being provided and maintained here in America. You can learn even more about Kristal's stamps (and pick some up for yourself) by visiting her online store:
K Andrew Designs
:
Kristal's stamp sets are perfect for cards, layouts, and so much more...
Remember....
As a special THANK YOU for joining us in welcoming the new team this week, you can use the promo code
"

letshavefun

"
at checkout for
20% OFF
your
ENTIRE
stamp purchase!!
Until next time,