Good afternoon, friends!! I'm so glad you could join me today for a VERY SPECIAL post!! Today is my day to hijack the
Getting Cricky blog
to show you a QUICK card featuring one of my favorite
K Andrew Designs
Stamp Art Sets... Ohhhhhh, who am I kidding??? ALL of
Kristal's stamp sets
are my FAVORITES!! :) I just love the quality, the fun sayings, and... believe it or not... the SMELL of these stamps!! LOL... It might be a little bit silly, but every time I open a new set of her stamps, I just have to smell 'em!! Who's with me??? I see you out there... Either nodding your head in agreement or looking over your shoulder to see who might hear you admitting that you smell your stamps too... It's okay, we can keep it our little secret, k??? ;)
Anywhooooooo... It seems to be that time of the year when I'm always making Birthday Cards (and graduation cards and thinking of you cards)... My stash was getting pretty low, so I thought I'd color up some cute images and make some fun cards so that I could add a little "sweet treat" (a.k.a. GIFT CARDS) to before mailing off to a few of my favorite recipients...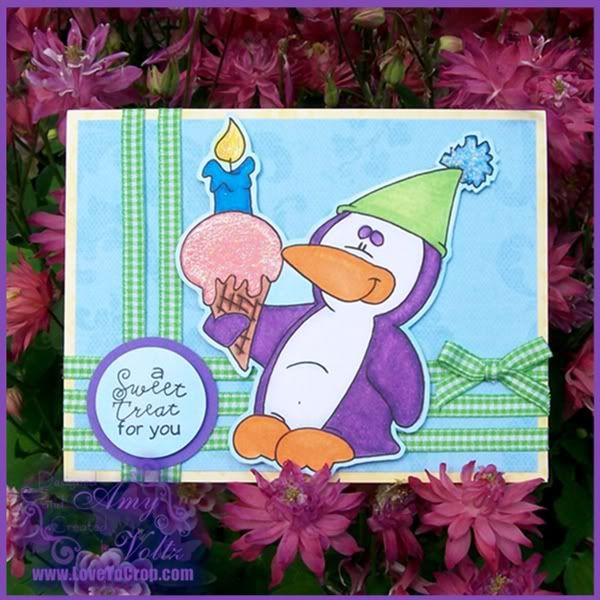 Those of you who know me are already familiar with my, ahem, addiction to digital stamps... I remember being one of those people who scoffed at the idea of PRINTING "stamp images" to color... What kind of silliness is that??? Now, I love the idea of printing the perfect images to go with sooooooo many of Kristal's AWESOME sentiment stamps!! This fun penguin (YES, I colored him PURPLE, because I could!! Oh, and because I don't have a black Copic marker... Do they make a black one???) is one of the freebie finds from
Dustin Pike
.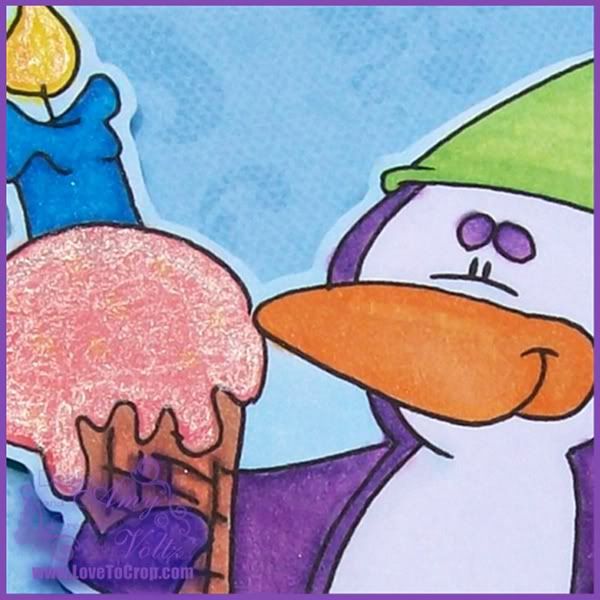 I used my Copic Markers to color the penguin... There is something VERY relaxing about having a reason to COLOR every day... Even when I sometimes go outside the lines (as I very often do), I was told (by a very important and very wise self-proclaimed "life coach") that it just adds a little character and personality... Of course, it always helps if you can add some gobs of glittery-goodness like I did on the ice cream, flame, and hat tassel (YAY ME for finding my Gelly Roll Stardust Pen!!)...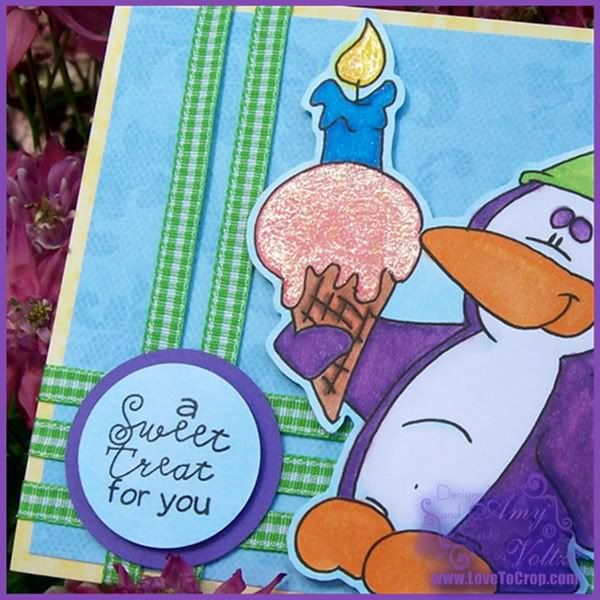 One of my sweet Design Team sisters (
Patty from Creative Diva
) used Baker's Twine to create a background on her card a couple of weeks ago (
you can see it HERE!
)... Her idea inspired me to use some thin (1/4") ribbon to create an offset background for this card -- I'm so excited about how it turned out!! :) What a simple way to make a simple background really POP!!
I also just LOVE finding ways to use Kristal's "holiday" stamp sets for everyday cards (or in this case, a BIRTHDAY card!!)... This PERFECT sentiment "a sweet treat for you" is one of the little goodies hidden on the "
I Heart You Stamp Art Set
" (be sure to click on the image below to make this set yours TODAY!!)...
Now, before you run off, I have TWO IMPORTANT REMINDERS for you!! First of all, Kristal just announced the PRE-RELEASE of two more FABULOUS sets -- "Guy Talk" and "Southern Sayings"!! Have you checked them out yet??? Ohhhhhhh, you really must -- I'm already thinking of all the fun projects I can make with these!! What would YOU create with them??? Need a peek??? Check them out (clicking on the images will take you right to the PRE-ORDER page -- they'll be ready to ship on or about May 25th!! You could be one of the FIRST to have them!!):
Southern Sayings
And secondly, remember that THIS FRIDAY is our monthly Design Team Blog Hop!! We'll have TEN fantastic Hop Stops for you beginning at 9pm (Eastern)!! We'd love to have you join us for our fun-filled "SUMMERTIME" themed hop -- Be sure to bring your lemonade and gather round for some grilling, chilling, chirpin' good times!! Hope to see ya here!! :)
Until next time,