Happy Thursday, everyone!! It's super-dee-duper to see you today!! It's the start of another BRAND NEW challenge over at the
Decorate To Celebrate! Challenge Blog
... At
DTC
, we want to see your party supplies, your decorations, and everything else that goes along with a celebration -- You can enter any project -- yard signs, banners, cupcake toppers (even the cupcakes themselves!), centerpieces, and more (as long as it's not a card or layout)!! I always have such fun with these challenges as they really make me think outside the box... I invite you to hop on over there and check out the challenges -- You can see a list of the
upcoming challenges HERE
!! :)
For challenge #27 we're creating projects for a
4th of July Party
!! It's no secret to my friends and family that this is one of my all-time FAVORITE holidays!! I love the fireworks and sparklers, the cookouts, the time spent with loved ones, AND the actual meaning behind the day -- a celebration of INDEPENDENCE... Aren't we fortunate to be able to enjoy something so valuable as FREEDOM??? So here's my project (it's already the centerpiece on my kitchen table in celebration of the 4th of July)... I hope you like it!!
Doesn't that just make ya feel like celebrating??? This super-fun candy dish is filled with Dum-Dum Lollipops and sports a bottle rocket ready to light up the sky!! :)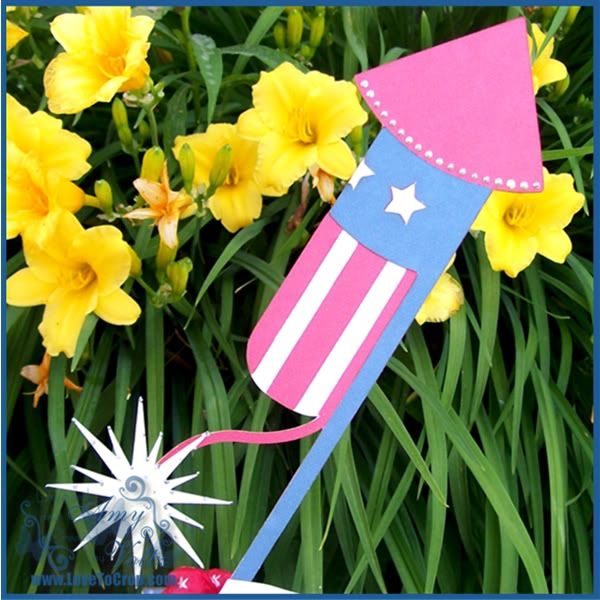 The bottle rocket die cut can be found on the Independence Day Cricut Solutions Cartridge... I used my Gyspy to cut it as large as possible on a 12" cutting mat (it's about 11.5" tall). I inked the edges of each layer with some caramel ink to give it a softer edge.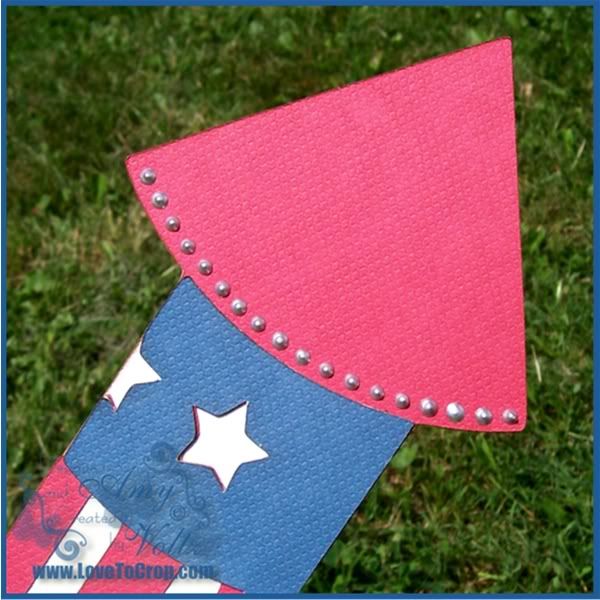 Silver Perfect Pearls add a bit of sparkle and a little bit more FUN to the bottle rocket... I love the texture on this We R Memory Keepers cardstock... It perfectly matches the designer cardstock I used for the candy dish (also from We R Memory Keepers -- Red, White & Blue line... Available from my favorite LSS!!)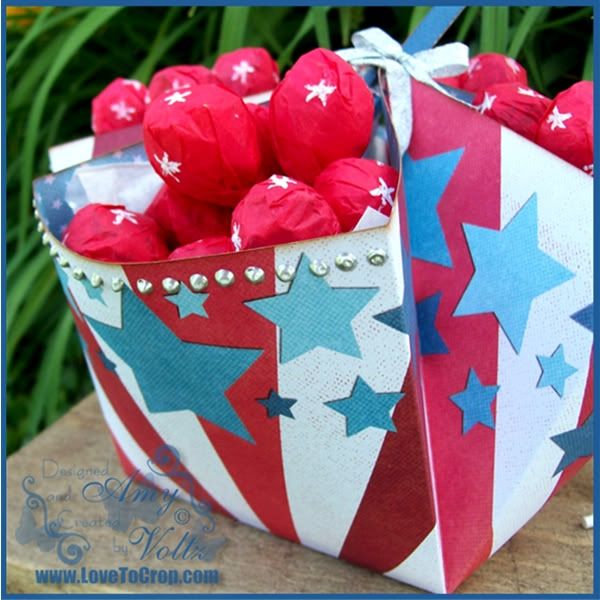 Have you tried one of these candy dishes yet??? If you haven't, I invite you to give it a whirl!! I never realized how easy they were to make until I tried one (thank you, Kathy, for telling me how easy it was!)... Feel free to use my pattern to make your own -- I'd love to see yours!!
Not that it has to be a candy dish... You could use it for silverware or a gift box or fill it with flowers... The possibilities are endless!! I filled mine with these customized lollipops, but red, white & blue M&Ms would have been fun too -- I just wasn't gonna separate them from the bag of "regular" ones I had OR spend the time to paint them in festive colors!! ;)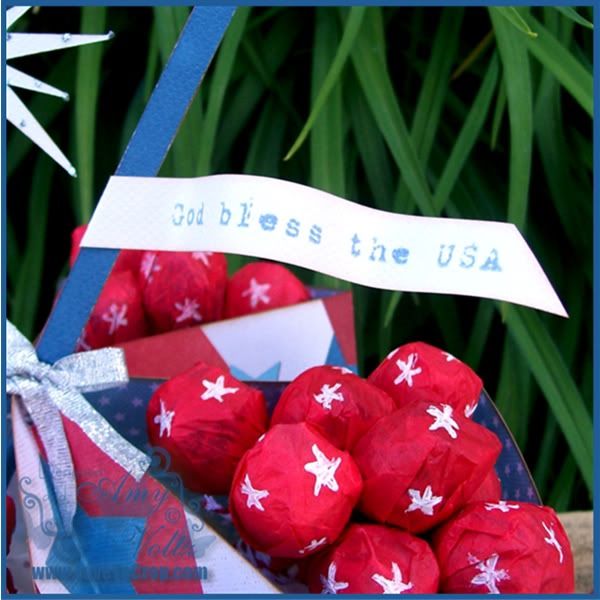 Instead, while I chit-chatted on the phone to one of my favorite peeps, I wrapped each lollipop with a square of red tissue paper and colored little stars all over them with my white Gelly Roll pen... Don't those look FUN??? And I'm sure it took much less time than individually painting M&Ms...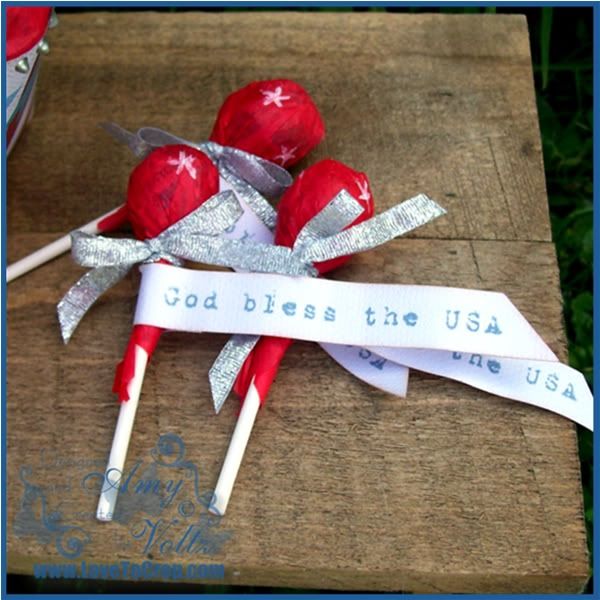 Of course, no 4th of July party supply would be complete without a little wish for the holiday!! I selected the "God bless the USA" sentiment found on the "Freedom Isn't Free" Stamp Art Set from K Andrew Designs... Oh, I just love making little flag tags for goodies like this!! :) If you'd like to see more AMAZING projects with this stamp set, please be sure to visit this Getting Cricky post!!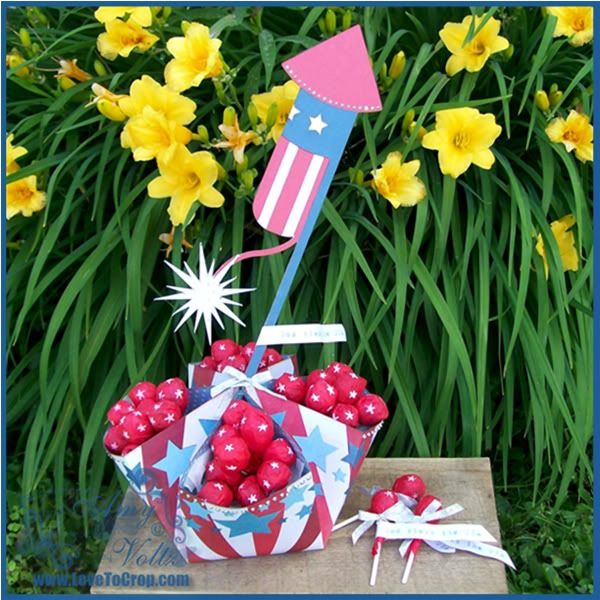 And there ya have it!! I'm almost all set for MY 4th of July Celebration!! What are YOUR plans for the holiday??? Are you spending time with family? Heading to the beach? Planning a fireworks extravaganza? This 4th of July, as I kick back and enjoy a fabulous display of fireworks with some very special people in a very special spot, I'll be saying a WISH for YOU to be enjoying your day too...
In the meantime, I'd love to see what kind of projects YOU would make for YOUR 4th of July celebration??? Create 'em up and show us what you've got by linking up over at
Decorate To Celebrate!
before Tuesday, June 26th at 11:59pm EST... I can't wait to see what ya make!! :)
Until next time,