It's time for another FUN challenge over at Decorate To Celebrate!! :)
For Challenge #35, we are asking you to create any project to be used as a party decoration (or party supply) for a
HALLOWEEN PARTY
!! Come help us celebrate
EVERYTHING WONDERFUL ABOUT GHOSTS, GOBLINS, AND GHOULS
with your table decorations, party banners, pennants, yard signs, cupcakes, party favors and more!! :)
Didja know that by entering your party supply or decoration in the challenge you could WIN a darling mini album especially created just for you by my fabulous friend
Rhonda
??? Yup!! If you don't have one of her minis yet, you'll definitely want to try for one now!! :) So be sure to link up your Halloween project
HERE
before 11:59pm (EST) on Tuesday, October 16th to be eligible for
YOUR CHANCE to WIN one of Rhonda's AMAZING and BEAUTIFUL mini albums
(remember that to be eligible your project must be a decoration or party supply)!! :)
This was a really, really, REALLY fun challenge for me this year!! For the past couple of months, I've had a little creative help from The-Love-Of-My-Life making these super cool cans and bottles and other odds-and-ends... It is such a joy to see someone else get so excited about what I'm excited about!! Of course, we could just be suffering from the effects of too many paint fumes too, right??? Nah, I'm just kidding... We're just having a blast coming up with new things to decorate!! :) So look at what I have to share.....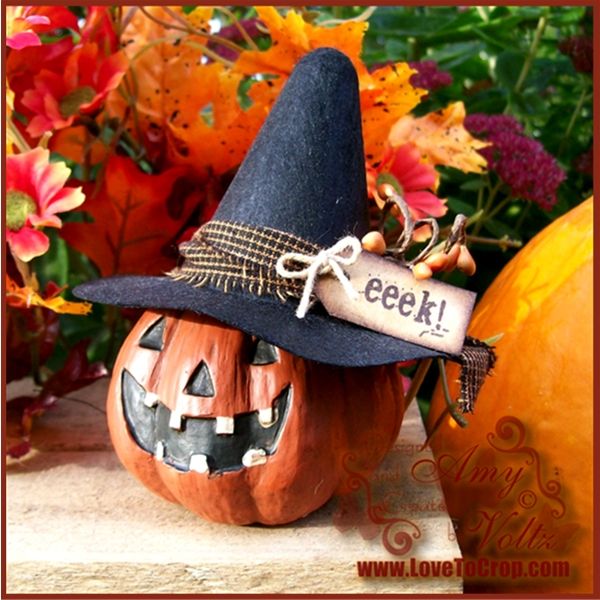 First, I have this way-too-cute Jack-O-Lantern turned Witch to share with ya!! Eeek!! Isn't that just too much??? I just can't help but smile every time I see this little guy... This is also a great way to "freshen up" some decorations that you may have tucked away from past years -- Add a hat to a resin pumpkin, stamp a coffee-stained tag with a cute saying, and VOILA!! It's like a new little goodie just waiting to greet ya!! I like to think that my little Jack-O-Lantern has that great big grin cuz the sun is shining... What do YOU think he's smiling about???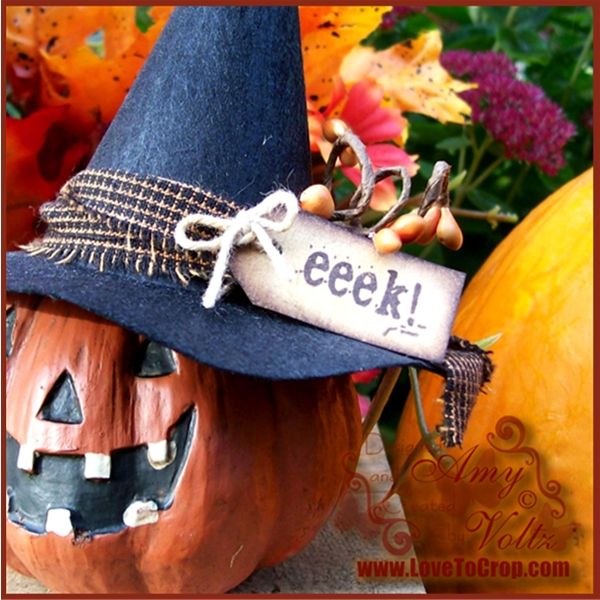 There's a closer peek at my tag -- It's been coffee stained and distressed with brown ink to give it an aged look... I'm just in love with this effect!! :) This fun little sentiment (as well as all the other sentiment stamps I've used today) can be found on the
K Andrew Designs "Fall-O-Ween" Stamp Art Set
... This set is simply perfect for all things Fall AND Halloween!! :)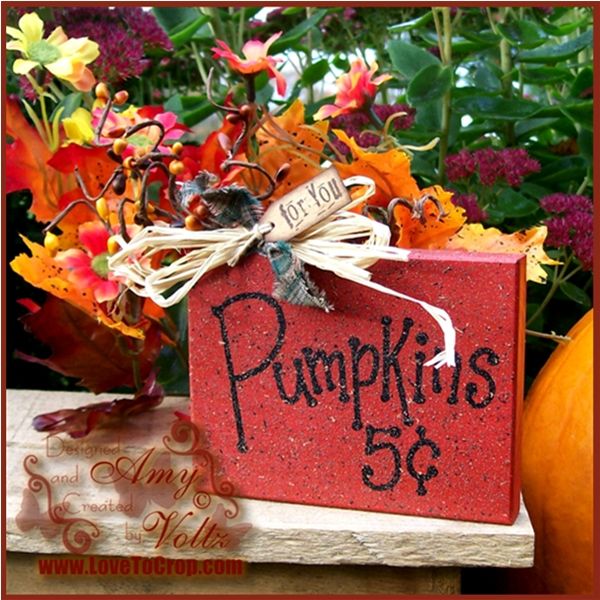 This simple, yet adorable, Pumpkins sign is a piece of wood that has been painted and hand-lettered... I added a bit of raffia with a sprig of bittersweet and tied it all up with a homespun ribbon. This little sign easily sits on a shelf... Of course, if you're a mom with lots of little ones running around, I wouldn't want anyone to mistake which "Pumpkins" you were
giving away
selling for just 5 cents... hee hee... :)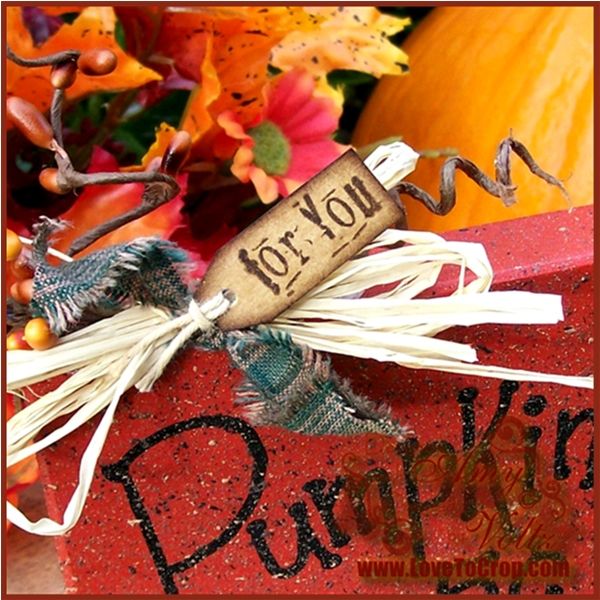 I added a little "for you" tag to the top of my sign because this little knick-knack is gonna find its way right into a gift bag for my bestie... I'm sure she'll find the perfect spot to display this little goodie...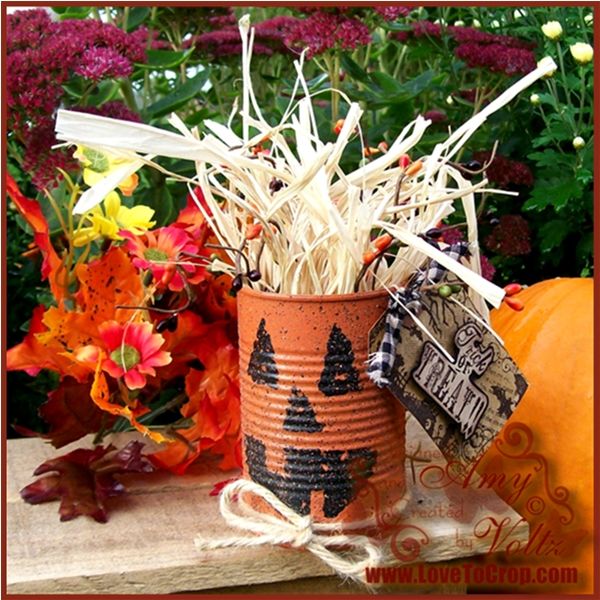 And, finally... My Jack-O-Lantern cans that just make me laugh!! Even though I've filled this one with some "crazy hair" made of raffia, these would make awesome party favors filled with candy corn or chocolate bars (YUM!!)... Since I love, love, LOVE finding new ways to up-cycle my cans and bottles, this is the kind of project that I can really have fun with -- Of course, the extra touches that The-Love-Of-My-Life added really made the fun POP!! :)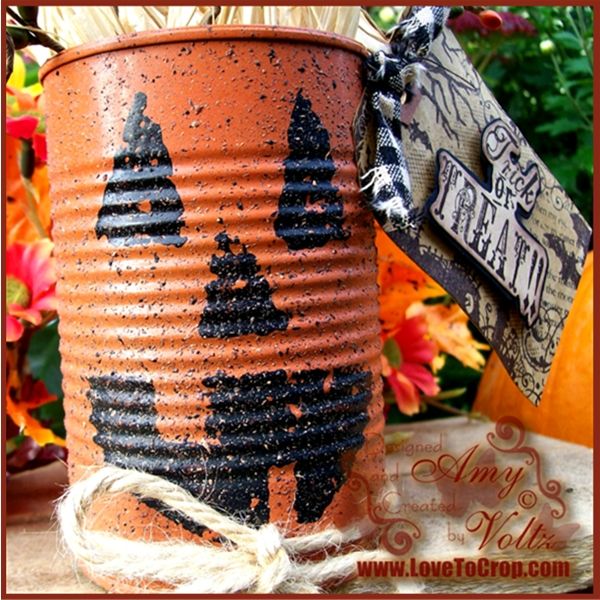 After using these as party favors, they would be perfect to house a battery-operated taper or tealight for a splash of light on a dark windowsill or table...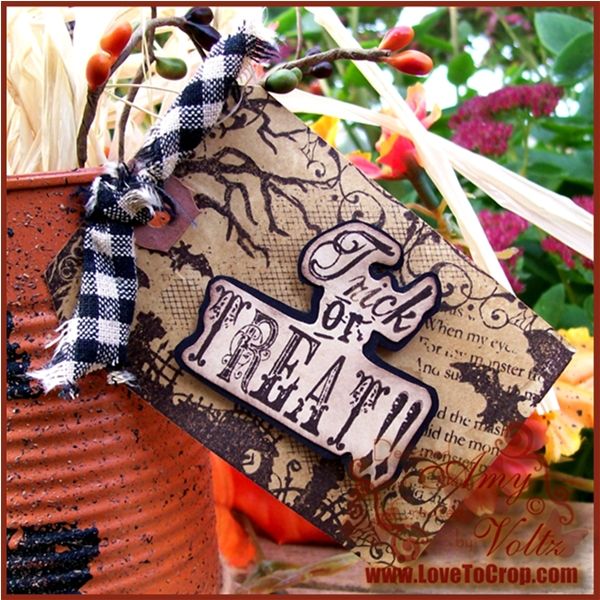 I've saved my favorite thing for last... It's this AWESOME tag that I've attached to my can... My friend and
Paper Playtime
DT Sister,
Lucy
, has enabled my Halloween-stamping-obsession with this FABULOUS CTMH background stamp... It was quick and easy to create the perfect tag to add my "Trick or Treat" sentiment stamp to!! Don't ya love it???
Well, that's it, friends... I hope I've inspired you to think outside the box and create something for our super-fun
Halloween Challenge
over at
Decorate To Celebrate
!! We'd love to see what YOU create for the challenge -- Will it be a banner? A centerpiece? A lantern? Need more inspiration??? Hop on over to
DTC
and check out what the other Designers created too -- It's sure to be a TREAT!! :)
Until next time,