Starts
:
Monday, October 15th 12:00 am EST
Ends:
Thursday, October 25th Noon EST
Winner (chosen by random.org) Announced:
Thursday,
October 25th
late afternoon
Our sponsor this challenge is...
Mary of Cardz TV Stamps
The winner will receive one set of Mary's Cardz TV Stamps!
Here is my project for this challenge:
....Because if I wanted to be welcomed into "BOO"-ville, I'd definitely expect a tasty beverage!! :) Sheldon Cooper would recommend hot tea or cocoa, so something tells me that a Bottle of Boos... would not quite make the cut for him!! But thank goodness he doesn't get to decide what tasty beverages we're serving in Boo-ville!! ;)

To create my project, I started with a plain, glass, long-neck bottle (I'm thinking it was a Jones' Soda bottle as The-Boy-Child and The-Girl-Child are both addicted to those...). The-Love-Of-My-Life worked his magic to transform the bottle into a rusty-looking creation... Since I love, love, LOVE to up-cycle, I'm glad he enjoys turning my boring bottles and cans into wonderful canvases for my projects!! :)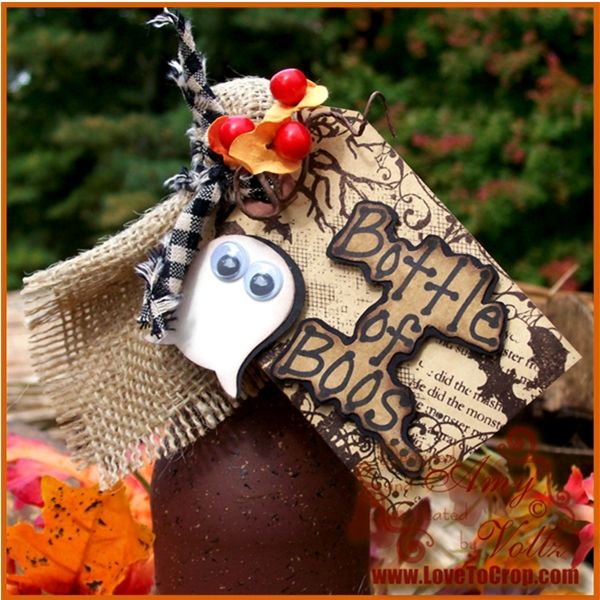 In case you missed the last tag I made that was kinda sorta like this one (antiqued and stamped and oh-so-FUN), I picked up this fabulous background stamp from my
Paper Playtime
DT Sister and friend,
Lucy
... I've probably stamped 100 of these tags to use on various projects -- I just love how the background is so quick and easy to create!!
I hand-lettered the "Bottle of BOOS..." on Kraft cardstock then fussy-cut around the sentiment before mounting it on black cardstock and fussy-cutting a thin border (and, of course, I sponged a little brown ink on the edges for some extra distressing). Pop dots behind the sentiment allow for a bit of dimension. That cute little ghost with the glow-in-the-dark googly eyes is actually an upside down "owl" that I punched using the Stampin' Up! Owl Punch (I just had to trim the little feeties off so the ghost didn't have alien antenna!!)...
My "BOO!" tag features that awesome-font sentiment from the K Andrew Designs "Fall-O-Ween" Stamp Art Set... I added a strip of burlap and a length of homespun fabric ribbon around the center of the bottle because I thought it was as much fun as a label... Plus the orange pip berries add a bit of extra whimsy, dontcha think??? :)
And there ya have it!! A Bottle of BOOs that everyone is sure to enjoy with a giggle!! :) Of course, if you're having a Halloween Party or Get-Together, you could always try this idea with the bottles of beverages that you're serving to your guests -- They don't have to be empty and up-cycled to be FUN!! :)
I hope I've inspired ya to make something for the challenge too!! To link up to the
Paper Playtime Challenge #86, please CLICK HERE
-- I can't wait to see what you create!! :)
I'd also like to enter my Bottle of BOOs into the following challenges:
Until next time,