For Challenge #40, we are asking you to create any project to be used as a party decoration (or party supply) for a
CHRISTMAS PARTY
!! Let's celebrate
EVERYTHING WONDERFUL ABOUT MISTLETOE, HOLLY, AND THE NATIVITY
with your table decorations, party banners, pennants, yard signs, cupcakes, party favors and more!! :)
I have several projects to share with you today -- I'm excited about all of them because it's a small sample of all the fun things my honey and I have been working on this season!! :) Growing up in the "family business" has had its challenges, but it also has LOTS of blessings -- Like getting to work with and spend time with the people you love the most!! I also feel incredibly lucky that I've had the chance to learn from two of the most creative people out there (my parents)!! :)
My first project is a decoration that can be used to light up a dark hallway or brighten a window or provide that soft candlelight for a romantic Christmas dinner... ;) The-Love-Of-My-Life was kind enough to prepare the base of my Candle Arrangement for me (a square of pine and a wooden candle cup, beautifully stained) so that I could add the soft pine trim and pip berries as well as a simple primitive bow... That lovely wax dipped taper has a timer feature so that it stays lit for 5 hours before turning itself off until the same time the next day (SO COOL!!)... Where would you use yours???
My next goodie to share with you is one that my mom inspired...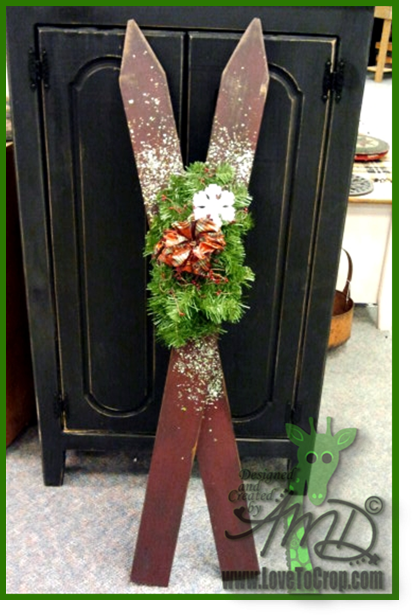 Perfect as an accent in any room or on the porch, these wooden skis (again prepared lovingly by The-Love-Of-My-Life) were painted and sanded and stained to look aged and distressed... I added a simple arrangement of pine and pip berries as well as a beautiful glittered snowflake (the glitter just wouldn't show up, but ya have to know it's there!!)... I made that delicious bow with 2.5" ribbon tied with my Bow-dacious Bow Maker (I'll have more news on THAT later!!)...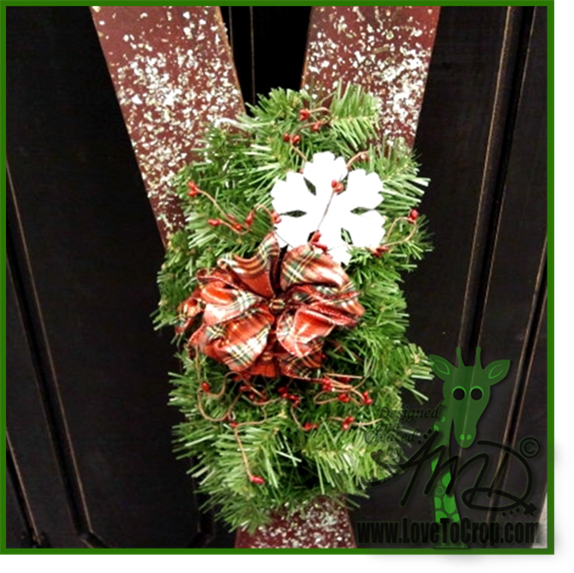 When I was all finished adding the arrangement to the skis, I (of course) had to GLITTERFY the WHOLE project!! :) Some spray adhesive and buffalo glitter added enough sparkle to make me SMILE... Doesn't glitter make EVERYTHING better???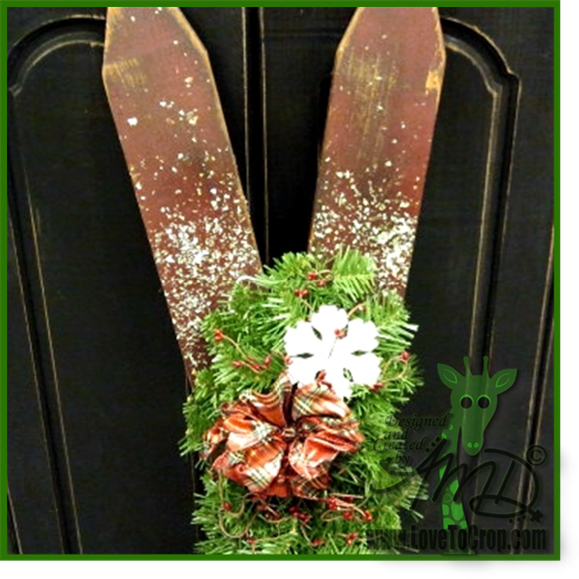 And finally, just to give you another peek at what else we've been up to in the Workshop...

This is my most-favorite decoration of all!! This snowman twig box has a cubby in the back to hold twigs or some tall greenery or even umbrellas!! I just love his carrot nose and fun face that matches my
Snowman Salt Box (see that HERE)
... Won't he look perfect as he welcomes my Christmas visitors?!?!? :)
NOW IT'S YOUR TURN to show us your Christmas Decor, party supplies, and other decorations in the DTC Challenge #40!! Link up your project
by clicking HERE
before 11:59pm (EST) on Tuesday, December 25th to be eligible for
YOUR CHANCE to WIN December's GRAND PRIZE
!! Please take a look at our Challenge Rules (
HERE
) before submitting your project. :)
Before you rush off to start creating, I don't want to forget to wish you and your family a Very Merry Christmas... I know this time of year can be difficult for so many -- Whether from spending the holidays without a loved one or difficult memories of holidays past, some people really struggle through this season... I have lost some dear friends and loved ones over the years, but I feel very blessed to still have both of my parents, my siblings, my children, my best friends, my extended family, and my honey... And while we have close friends and family members deployed through the holidays again this year, I'm forever grateful for their willingness to sacrifice simply for my freedom... Although we have family members struggling with health issues, I'm thankful for the many miracles we've witnessed this year... As you approach this Christmas, I wish for you peace and joy... And especially, if you are struggling, I pray you will be able to find blessings in each day that will help you overcome any difficulties you face...
Until next time,