Hey everyone!! I'm so glad you stopped by today!! It's time for another FUN challenge over at Paper Playtime!! It's an "Anything Goes" challenge, so be sure to pop over and link up with us!! :)
Paper Playtime Ch#5 Anything Goes
I can't wait to see what you link up!! For inspiration, here's what I created for this challenge:
So there's this really amusing story that goes along with my card here... You see, I grew up with Raggedy Ann and Andy dolls as well as a host of other "rag" dolls, so I'm pretty used to seeing them... And my mom's decor is primitive country, so it's common for her to have little rag doll decorations tucked on shelves around her home... BUT, there's this one doll... And there's this one guy (let's just call him The-Sweetheart)... And this one doll seems to have a CRUSH on The-Sweetheart!! Really though... The-Sweetheart doesn't so much "like" these little rag dolls... I think it's because he's watched too many scary movies in his life because, when he saw this little doll on my mom's shelf, he said, "Hey, Aim... I think that doll is looking at me!!" I rolled my eyes and giggled a bit (because OF COURSE it's just a doll!!)... And then The-Sweetheart says, "Hey, Aim... I think that doll is carrying a head around in that little bag of hers!!" To which I nearly spit my sip of water across the table before replying, "Um, Sweetheart, that little bag is just a little sign and it says LOVE, so I don't think she's the type to tote heads around!!" After another bite of food, some big-eyed staring at the doll, and a glance back at me, the pellet stove in the corner made a loud squeaking noise that sent The-Sweetheart jumping out of his chair yelling, "Hey, Aim!! I think she's coming for me now!!" Sigh... Shaking my head, I retrieved the doll from her corner on the shelf and brought her to show him that she had no legs to run after him... I then assured him that the squeaking noise was merely the pellet stove motor, and he had nothing to worry about. I don't think he was convinced.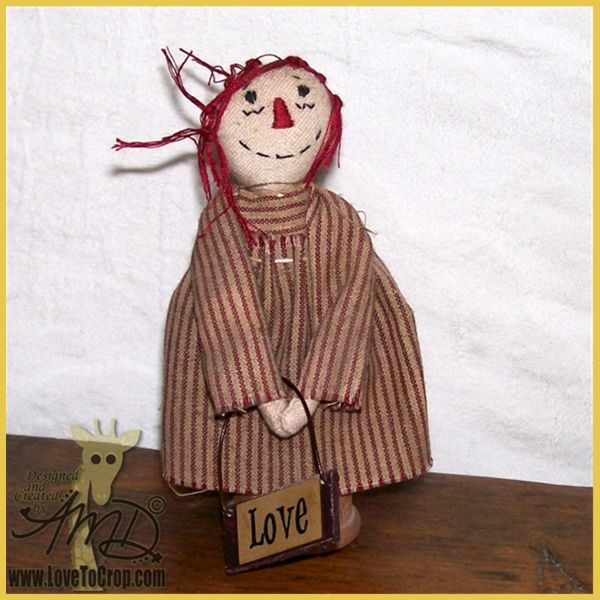 The next day, when we got back to my mom's house, we found the doll like this: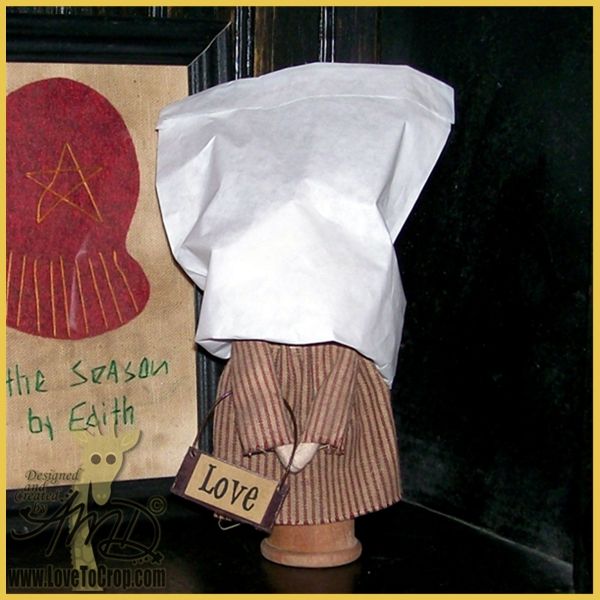 After hearing the story of The-Sweetheart and his reaction to this sweet little doll, my mom found a little paper bag to hide her, um, "scary" face from The-Sweetheart. We had a good laugh about it (especially since my mom thought she had seen The-Sweetheart looking cross-eyed at the doll that morning over his cornflakes)... She actually thought it might be more amusing to move the doll around the house like the Christmas Elf... I thought the bag might cause fewer heart attacks for The-Sweetheart... But I did find a digital stamp from
Dustin Pike
that reminded me so much of the rag doll that I had to "help" her make this card for The-Sweetheart!!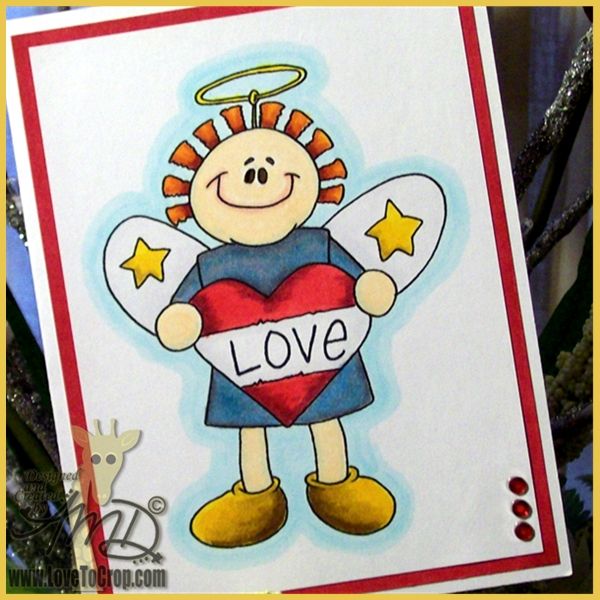 Tee-hee... I colored her with my Copics before matting her on red and white cardstock then added three little red gems...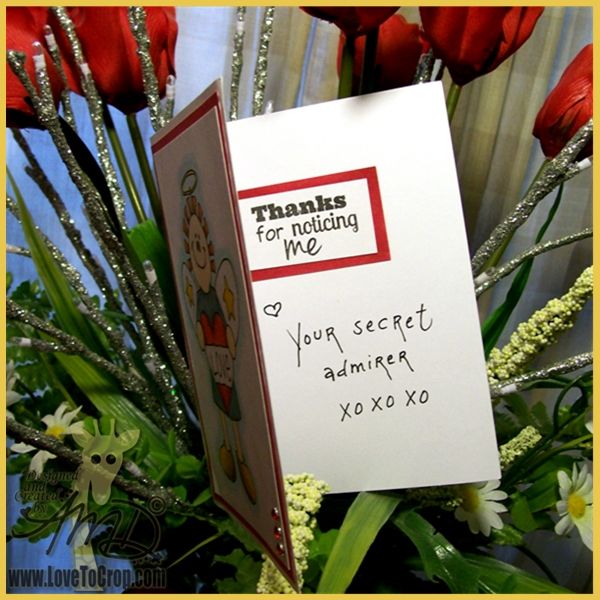 Since this was supposed to be a card for The-Sweetheart from the doll, I found a perfect little sentiment from K Andrew Designs "Of Mice and Little Men" set that says "Thanks for noticing me"... I mean, that little rag doll got more attention than she could have ever imagined!! :)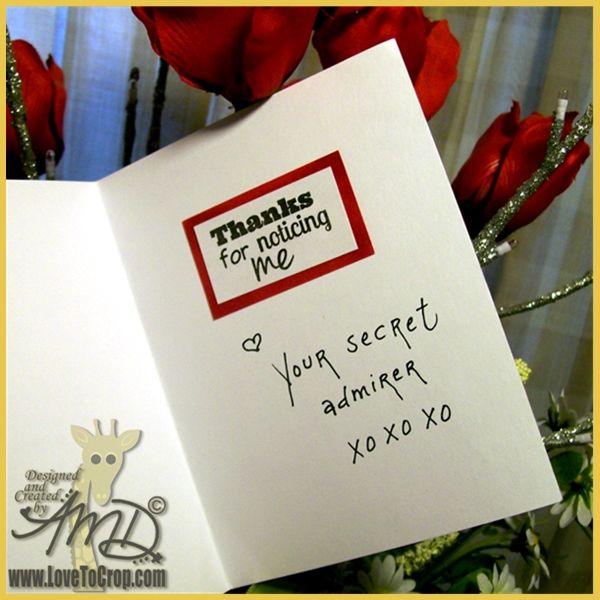 The-Sweetheart didn't laugh quite as hard as we did when he received the card... After jumping a little at the resemblance of the doll on the front of the card, he mumbled something about his "creepy little secret admirer" and tucked the card out of sight... Tee hee...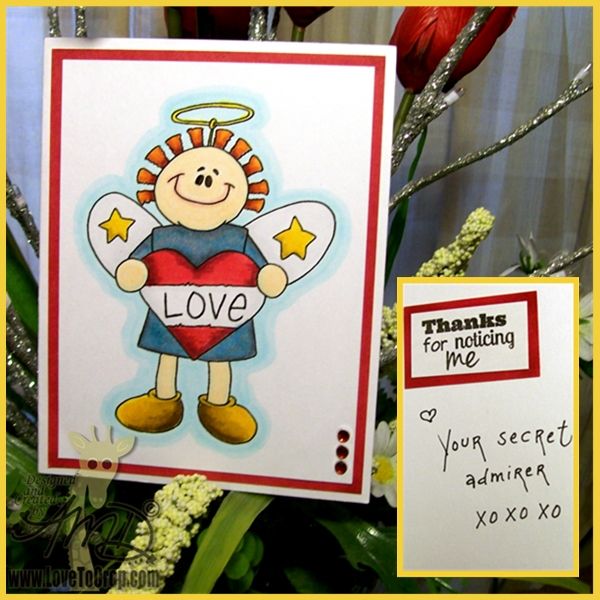 As for the doll... She's enjoying the view from atop her shelf (bag-free again) while convincing the rest of us that it really IS the pellet-stove making that high-pitched eerie noise from time to time... And whenever The-Sweetheart comes to visit, she gives him a wink and pats her little bag... :)
Thanks again for stopping by to see my card... I hope you enjoyed the story and inspiration and will have a chance to show us what you've made for the challenge!! Be sure to stop back by on Wednesday to see the first of my St. Patrick's Day goodies... I'm so excited to share them with you!! :)