For Challenge #48, we are asking you to create any project to be used as a party decoration (or party supply) for a
TEA PARTY
!! Let's celebrate
EVERYTHING WONDERFUL ABOUT LITTLE TEA SETS, SUGAR CUBES, and TEA CUPS
with your table decorations, party banners, pennants, yard signs, cupcakes, party favors and more!! :) Link up your project over at
Decorate to Celebrate
before 11:59pm (EST) on Tuesday, April 16th to be eligible for
YOUR CHANCE to WIN Rhonda's Mini Albums!!
I decided to create some table decorations and a convenient silverware caddy for my project...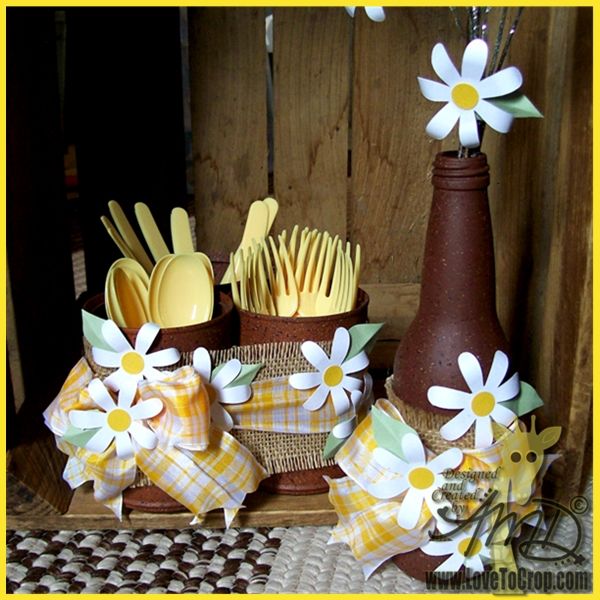 I started off by having The-Sweetheart work his "rusty" magic on the soup cans and bottle (don'tcha just LOVE upcycling???)...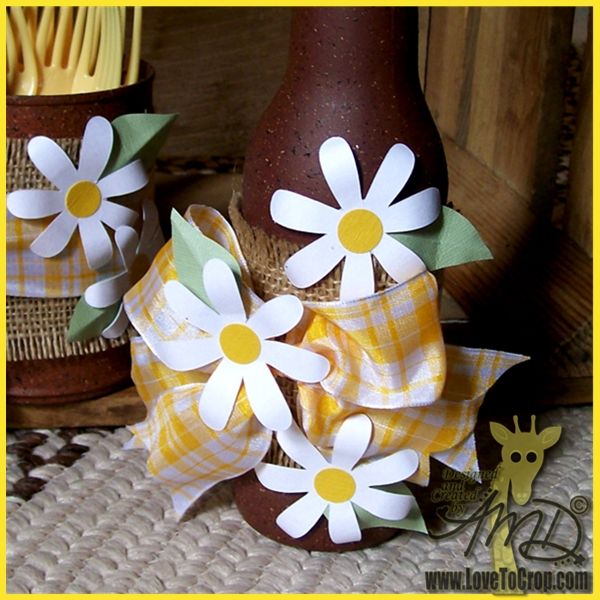 For the bottle, I wrapped burlap around the fat section first, then added the yellow plaid ribbon... I used my bow maker to tie the bow and secured that to the front of the bottle before adding some paper daisy flowers (cut at 2" using the SHADOW feature on the Walk in my Garden Cricut Cartridge).
I had some of these fun twisty branches coated in silver glitter left over from my post-Christmas stash (and, yes, my craft room is now COVERED in glitter!!)... I added some of the paper daisies to the twisty branches to give them more volume and interest...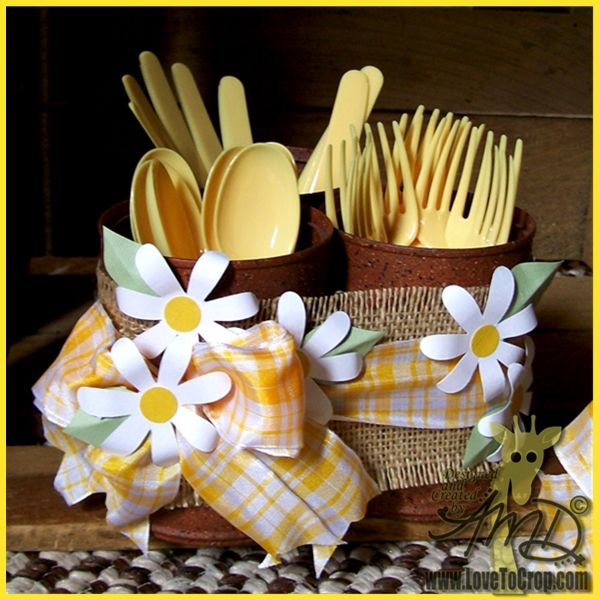 I then wrapped the three soup cans with burlap to hold them securely together before adding a length of the yellow plaid ribbon around the cans as well... I again tied the bow with my bow maker and secured it to the front of the cans (I thought that perhaps after my Spring Luncheon Tea I could use my silverware caddy as a pen or marker caddy in my craft room -- provided I don't just keep it for the season in the kitchen!!)...
To add dimension to the flowers, I used my bone folder to gently curl the petals on each flower... I used a textured SU! cardstock for the flower centers because I really like how it makes the flowers look a little more "real"...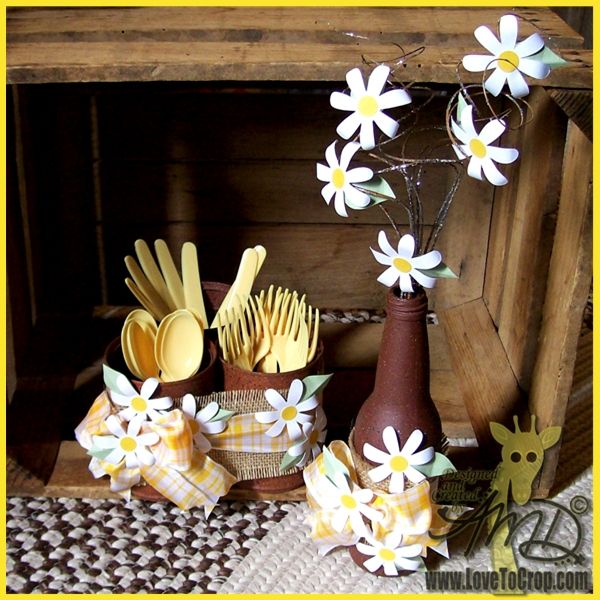 I have some favors and other decorations that I also created for this special luncheon -- I hope I'll be able to share those with you as well!! Now, be sure to link up your Tea Party project so I can check out what ya made too!! :)
I'm linking up to the following parties -- Come check them out and join me in the FUN!! :)
Until next time,